Aegean: Recipes from the Mountains to the Sea (Paperback)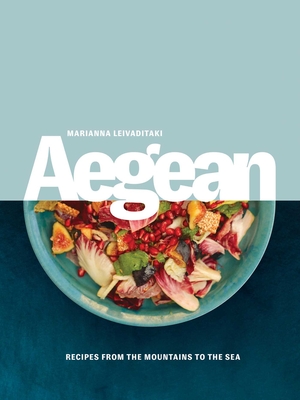 Description
---
So much more than a cookbook; it is a love song to Crete and its cuisine

Marianna Leivaditaki is a natural storyteller. She grew up in Chania, on the Greek island of Crete, and spent her childhood helping out in the family-run taverna. After school, she carried around her blue notebook, writing down all the recipes she would like to cook, helped by the kitchen wisdom of her Greek grandmothers.

Marianna's love for the food of her heritage flows through every page, but she brings it her own contemporary style, honed through an illustrious career in professional restaurant kitchens. As head chef of the celebrated London restaurant Morito, she has championed high-quality ingredients, presenting them in simple, beautiful sharing plates.

The recipes in her book, inspired by the Sea, the Land, and the Mountains of the Aegean islands, celebrate the wealth of the Mediterranean diet, rich in olive oil, fresh vegetables and fruit, nuts, fish, and whole grains, and a passion for good food and shared meals. Marianna offers achievable, delicious dishes celebrating fresh, seasonal ingredients that you can take time to enjoy with friends and family.
About the Author
---
Marianna Leivaditaki was brought up in Chania on the Greek island of Crete. Her father is a fisherman and she spent most of her childhood evenings in her family's seafood restaurant, standing on a chair peeling sacks of potatoes and gutting the day's catch. After finishing her studies, she traveled through France and Spain on a bike and lived in the Ecuadorian jungle for a while, eating local fresh produce and learning to cook in local ways. After returning to the Cretan restaurant for 2 years, she went to London and began working at Moro with Samantha and Samuel Clarke. Since 2016 she has been Head Chef at Morito, where she has brought a Cretan influence to the signature Spanish and Middle Eastern menu.
Praise For…
---
"Marianna Leivaditaki's Aegean is the work of a London chef longing for home, Crete. Showcasing recipes for grilled squid with lemon, arugula, and sheep's milk cheese and slow-cooked leg of lamb with orzo, it exudes love; the splendid light in the photos also provides vicarious Vitamin D."

"Leivaditaki is able to truly dive into the unique specificities of her native Cretan cuisine … [You] will love this book's photos of the island, also shot by Elena Heatherwick. The book is divided into recipes from sea, land, and mountains, with a final sweets chapter (called, charmingly, 'for after'). The rustic seafood preparations really shine. A whole charcoal-grilled fish dressed simply with lemon, oil, and herbs; a pot of Kakavia, fisherman's soup; and a spicy clam salad are all plenty beautiful on their own. In their entirety, they offer cooking inspiration for twenty or so varieties of fish and shellfish. To anyone committed to eating sustainable seafood that's been thwarted by a cookbook's narrow selection before: this one's for you."

"In a standout debut, London chef Leivaditaki, who grew up working in her family's restaurant on Crete, writes with grace and passion about the region's cuisine… This fresh take on Aegean cuisine introduces a captivating new voice."

A fisherman's daughter, Leivaditaki grew up on the island of Crete, but couldn't wait to leave its confines. After gaining success as a London chef, she finally began to appreciate the culinary bounty that she had abandoned. Here she shares recipes from her Cretan life that sum up the riches of the island's seas and its equally fecund plains and mountains. Many of Leivaditaki's recipes are so grounded in Crete's resources that they may be not easily reproduced in kitchens elsewhere. Limpets and turbot rarely reach North American markets, but a home cook may readily achieve mussels steamed in ouzo. Even more doable, her baked potatoes stuffed with shrimp and smoked salmon mayonnaise will star on any table. Lamb raised in Crete provides many an inspiration for red meat dishes, and beef stews appear as well. Leivaditaki concludes with sweets featuring honeyed goat cheese in filo pastry. Color photographs throughout display not only glorious Cretan food but also the dramatic beauty of the Mediterranean island's landscape."

"I want to make everything in this beautiful book. An absolute treasure."

"A delicious evocation of place and memory from one of my favorite cooks."

"[The recipes] are clearly written with helpful and careful instructions. The photography is gorgeous, warm, and rustic, and the author's notes are homey and welcoming; her stories aggregate almost into memoirs, an inviting glimpse into her lovely childhood memories of growing up on Crete … [T]his is a delightful cookbook that whets your appetite for foods from the Aegean…."
— San Francisco Book Review