The New Yiddish Kitchen: Gluten-Free and Paleo Kosher Recipes for the Holidays and Every Day (Hardcover)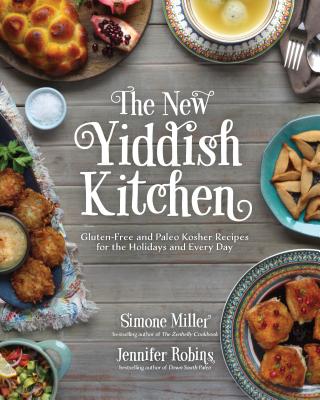 $28.00
This item is not currently available to order.
Description
---
Traditional Jewish Meals Made Healthier

From two leaders in the Paleo cooking community, The New Yiddish Kitchen is a fresh and healthful take on a beloved food tradition. Packed with over 100 traditional Jewish foods plus bonus holiday menus, this book lets you celebrate the holidays and every day with delicious food that truly nourishes.

Authors Simone Miller and Jennifer Robins have selected classic dishes—like matzo balls, borscht, challah, four different bagel recipes, a variety of deli sandwiches, sweet potato latkes, apple kugel, black & white cookies and more—all adapted to be grain-, gluten-, dairy- and refined sugar-free, as well as kosher. The book is a fun mix of new and old: modern with the whole-foods Paleo philosophy, and nostalgic with the cooking tips of Jewish grandmothers just like your own bubbe.

So when you're craving your favorite Jewish foods, don't plotz! Simone and Jennifer have got you covered with simple recipes for delicious Yiddish dishes you can nosh on all year long.
About the Author
---
Simone Miller is the chef and owner of Zenbelly Catering, a 100% gluten-free, Paleo-focused catering company, and she shares her favorite recipes on her blog ZenBelly.com. She is the author of The Zenbelly Cookbook: An Epicurean's Guide to Paleo Cuisine and lives in San Francisco, California.

Jennifer Robins is the founder of the popular food blog Predominantly Paleo and the author of Down South Paleo. She turned to whole foods following a life-altering health crisis and no help from traditional treatments. Her challenge resulted in finding creative ways to combine real ingredients to taste like old favorites. She currently lives in Arlington, Virginia until the next Air Force adventure begins!
Praise For…
---
"In The New Yiddish Kitchen, Simone and Jennifer have brought the classics back to life, and back to the table. Flipping through the pages will take you back, and cooking these recipes will keep your belly—and your soul—full and nourished."
—Diane Sanfilippo, New York Times bestselling author of Practical Paleo and The 21-Day Sugar Detox

"Bagels and cream cheese are back! With a focus on high-quality ingredients and solid technique, these recipes respect food, tradition and your health—while serving up deli dishes the Paleo world has been missing."
—Melissa Joulwan, The Clothes Make the Girl, author of Well Fed and Well Fed 2

"The New Yiddish Kitchen is a treasure trove of beloved recipes. You may just be interested in the amazing grain-free bagel recipes; those alone are well worth the price of admission. However, the real delight in this book is discovering the multitude of equally enchanting recipes, waiting to transport you back to your favorite bagel shop or corner deli. Filled with charming little notes from Simone and Jennifer's bubbes on many recipes, this book is as much a pleasure to cook from as it is to read."
—Bill and Hayley Staley, bestselling authors and creators of Primal Palate