Landscaping Earth Ponds: The Complete Guide (Paperback)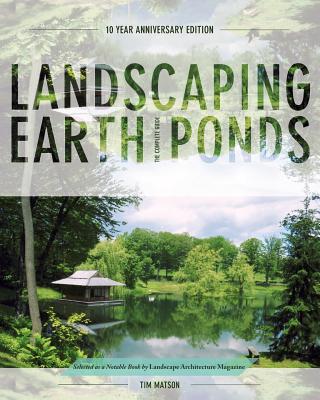 $38.34

Available in our Warehouse: Usually Ships in 3-8 Days
Description
---
A fixture of beautiful, ecologically-minded landscape designs, earth ponds are cherished for their innate aesthetic appeal, economic value, and the unique recreational opportunities they offer. Everyone knows that installing a well-designed pond can dramatically improve the value of a piece land, but detailed instructions for how to do so--and do so well--are frustratingly hard to find. Finally, here is a book with answers to all your earth pond questions and more.
Tim Matson has spent decades designing earth ponds and the landscapes that surround them. He has a remarkable eye for suiting these charming natural bodies of water to your property and lifestyle. With over 25 years' experience as an aquaculture consultant and landscape architect, he can teach you everything you need to know about designing and building an earth pond of your very own. In clear, step-by-step directions, Landscaping Earth Ponds explains...
How to create a strong aesthetic link between your house and pond
How to encourage plant life and establish lush aquatic gardens
How to accent your pond with winding paths and blooming hedges
How to screen your pond for privacy
How to build natural diving platforms
How to select the best materials for fill, embankments, and sandy beaches
Richly illustrated with photos and diagrams, and jam-packed with inspirational ideas, designs, and examples, Landscaping Earth Ponds is the number one resource for sustainable and tasteful pond design.
Tim Matson, a prize-winning writer and aquaculture consultant, has been advising people on how to build and maintain ponds and wetlands for more than 25 years through Earth Ponds, his pond design and restoration consulting firm. He has written numerous articles on ponds and aquaculture for Yankee, Harrowsmith Country Life, Country Journal, Vermont Life, Audubon, and other periodicals. He is the author of the Earth Ponds, Earth Ponds Sourcebook, and Earth Ponds A to Z. He also produced the Earth Ponds Video. Matson has presented his ideas at seminars and conferences around the U.S. He lives in Vermont.
Readers interested in related titles from Tim Matson will also want to see: Earth Ponds Sourcebook (ISBN: 162654347X ).