U.S. Army Survival Manual: FM 21-76 (Hardcover)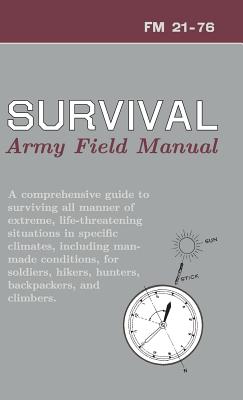 $29.63

Available in our Warehouse: Usually Ships in 3-8 Days
Description
---
This is the official U.S. Army guide to surviving all manner of extreme, life-threatening situations. Field-tested and time-honored, the strategies and techniques within have been recorded by the U.S. Army and are used regularly for official training. Topics covered include:
Psychology of Survival
Survival Planning and Preparation
Basic Medicine
Shelters and Firecraft
Procurement of Food and Water
Edible and Medicinal Plants
Poisonous Plants and Dangerous Animals
Weapons and Tools
Water Crossings and Obstacles
Direction Finding and Signaling
Survival and Escape of Hostile Areas
This guide also contains chapters on survival in specific climates like the desert, tropics, cold weather, and the sea, and dangerous man-made conditions including nuclear, chemical, and biological hazards. This is important information for soldiers, hikers, back-packers, hunters, and climbers. If you want to be prepared when things get real, this is the book you need.
Readers interested in related titles from The U.S. Army will also want to see:
Army Guerrilla Warfare Handbook (ISBN: 1626542732)
Army Guide to Boobytraps (ISBN: 1626544700)
Army Improvised Munitions Handbook (ISBN: 1626542678)
Army Leadership Field Manual FM 22-100 (ISBN: 1626544298)
Army M-1 Garand Technical Manual (ISBN: 1626543305)
Army Physical Readiness Training with Change FM 7-22 (ISBN: 1626544018)
Army Special Forces Guide to Unconventional Warfare (ISBN: 1626542708)
Army/Marine Corps Counterinsurgency Field Manual (ISBN: 1626544247)
Map Reading and Land Navigation FM 3-25.26 (ISBN: 1626542988)
Ranger Handbook SH 21-76 (ISBN: 1626545197)
Rigging Techniques, Procedures, and Applications FM 5-125 (ISBN: 1626544336)
Special Forces Sniper Training and Employment FM 3-05.222 (ISBN: 1626544484)
The Infantry Rifle Platoon and Squad FM 3-21.8 / 7-8 (ISBN: 1626544271)
Understanding Rigging (ISBN: 1626544670)