The Prince and the Dressmaker (Paperback)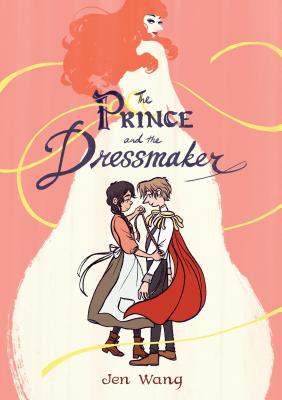 Staff Reviews
---
When a young dressmaker named Frances makes a quirky unique dress for a woman attending a ball her style catches the eye of Prince Sebastian. Soon she finds her presence requested and is employed by the young prince to create ravishing dresses for him to wear as his other identity: Lady Crystallia. Living a secret double life the two become great friends and encourage one another to be all they can be. This is the absolute LOVELIEST graphic novel I have ever read.
— Carissa
Frances is a lowly seamstress with unrecognized creative potential. Sebastian is a royal teen who sometimes feels like a prince, and sometimes feels like a princess. This graphic novel is set in Paris on the precipice of it becoming an epicenter of the fashion world, and is richly based on a moment of European history while still feeling like a revamped fairytale. While navigating this difficult social landscape, parental and social expectations, and all the turmoils of adolescence, Frances and Sebastian learn that the secret to true love is being true to yourself and being accepted for who you truly are.
— Lafe
Description
---
Paris, at the dawn of the modern age:
Prince Sebastian is looking for a bride—or rather, his parents are looking for one for him. Sebastian is too busy hiding his secret life from everyone. At night he puts on daring dresses and takes Paris by storm as the fabulous Lady Crystallia—the hottest fashion icon in the world capital of fashion!
Sebastian's secret weapon (and best friend) is the brilliant dressmaker Frances—one of only two people who know the truth: sometimes this boy wears dresses. But Frances dreams of greatness, and being someone's secret weapon means being a secret. Forever. How long can Frances defer her dreams to protect a friend? Jen Wang weaves an exuberantly romantic tale of identity, young love, art, and family. A fairy tale for any age, The Prince and the Dressmaker will steal your heart.
This title has Common Core connections.
About the Author
---
Jen Wang is a cartoonist, author and illustrator living in Los Angeles. She is the author of The Prince and the Dressmaker, Koko Be Good, and co-author of the New York Times Bestselling graphic novel In Real Life with Cory Doctorow. Her work has also appeared in Los Angeles Magazine, The Believer, Hazlitt, Slate, and McSweeney's. She has also written for the Adventure Time and Lumberjanes comic series. She is the co-founder and organizer of the annual festival Comics Arts Los Angeles.
Praise For…
---
A Washington Post Best Graphic Novel of 2018
A NPR Best Book of 2018
A Boston Globe Best Children's Book of 2018
A Publishers Weekly Best Books of the Year
Joint winner of the 2018 Harvey Award for Best Children's or Young Adult Book
2019 Children's and Teen Choice Book Awards Teen Book of the Year
"There is so much love in Wang's illustrations, which are perfectly suited to the fairy tale nature of the book...it's completely satisfying. In modern fairy tales, there really are happy endings."—New York Times
"Leave it to such a gifted artist to create this love letter to aesthetic design set against the story of a relationship blossoming between seamstress and prince." —Washington Post, from their "10 Best Graphic Novels of 2018"
"Jen Wang's cartooning is full of warmth and charm." —AV Club, from their "10 Most Anticipated Comics of 2018"
"A unique and thoroughly modern fairy tale. . . . a great story about being true to yourself and the kind of companionship you can find when you do." —Nerdist
"This graphic novel has all the trappings of a rags-to-riches romance. And it is one—in a joyfully subversive and inclusive way." —Horn Book, starred review
"Gorgeously dense artwork, lively sense of movement, effervescent fashions, sweet romance, and heartwarming denouement." —Booklist, starred review

"With inviting illustrations and a relatable story line, this tender tale of friendship and identity is sure to delight even readers who aren't fans of the graphic novel format."—School Library Journal, starred review
"It's all but certain to deliver grins, gasps, and some happy tears." —Publisher Weekly, starred review
"A visual feast, filled with exuberant charm and delightful characters." —VOYA

"For kids who never found a Disney princess costume to fit—literally or figuratively—Wang offers a second chance to claim a fairy tale of one's own. Readers new, or resistant, to graphic novels will also discover magic here in Wang's visual storytelling." —The Bulletin of the Center for Children's Books