Finding Narnia: The Story of C. S. Lewis and His Brother (Hardcover)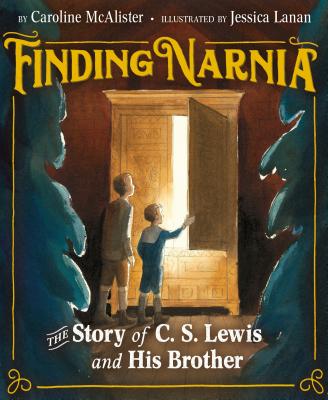 Description
---
Finding Narnia is Caroline McAlister and Jessica Lanan's captivating picture book biography of two brothers, Jack and Warnie Lewis, whose rich imaginations led to the creation of the magical world of Narnia.

Before C.S. Lewis wrote The Chronicles of Narnia, he was a young boy named Jack who spent his days dreaming up stories of other worlds filled with knights, castles, and talking animals. His brother, Warnie, spent his days imagining worlds filled with trains, boats, and technology. One rainy day, they found a wardrobe in a little room next to the attic, and they wondered, What if the wardrobe had no end?

Years later, Jack began to think about what could be beyond that wardrobe, and about a girl named Lucy and her siblings. This picture book biography introduces the beloved creator of The Chronicles of Narnia to a new generation of children who see hidden magic in the world around them.
About the Author
---
Caroline McAlister
's father was an English professor and she grew up in a house full of books. On weekends for fun the family went to used bookstores. Like her father, she now teaches English to college students, but as a young child she wanted to become an author of children's books. Now in her second career she has returned to her earliest aspirations. When she is not reading or writing you may find her playing tennis, cooking strange vegetarian meals, or quilting some of the fabric scraps she has hoarded. She is married to a philosophy professor. They have two fierce, smart daughters, and a large, loopy Labrador retriever. Her books include
John Ronald's Dragons
and
Finding Narnia.
Jessica Lanan has long been enchanted by the mysteries of the cosmos. Exoplanets are too far away for her to visit, but illustrating them is the next best thing. Jessica currently lives in her native state of Colorado with her husband, three-legged cat, and baby daughter, who was born during the making of Just Right: Searching for the Goldilocks Planet.

Jessica's illustrations can also be found in Finding Narnia: The Story of C. S. Lewis and His Brother, The Lost Package, and Jumper.
Praise For…
---
"A vivid portrait of inspiration and imagination... Masterfully explains how a classic series came to be while maintaining a sense of mystery and wonder." - Kirkus, starred review

"Lanan's expressive, soft-focused art is meticulously in step with McAlister's lyrical narrative, as both move from the often-harsh real world to the mystical realm of Narnia." - Publishers Weekly

"An enjoyable follow-up to Narnia storytime for nostalgic parents and their young initiates." - Booklist

"The watercolor illustrations are muted and ethereal, reflecting both the fantasy worlds created and the realities of a period in history torn by war... This pleasing exploration of Lewis will appeal to young fans who want to learn about the inspiration behind The Chronicles of Narnia." - School Library Journal