Counting Sheep: Calpurnia Tate, Girl Vet (Hardcover)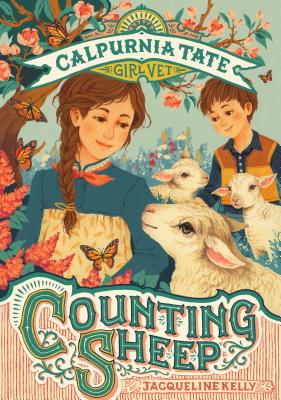 $15.99
Available in our Warehouse: Usually Ships in 3-8 Days
Other Books in Series
This is book number 2 in the Calpurnia Tate, Girl Vet series.
Description
---
Callie Vee and Travis help animals big and small in this illustrated chapter book series for younger readers.
In this second book in the Calpurnia Tate, Girl Vet series, Callie takes a hands-on approach to animal doctoring. When Callie and Granddaddy go exploring by the river, Callie discovers a leaf covered with spots. Those spots, it turns out, are eggs, and those eggs become butterflies. One of her newly hatched butterflies has a problem, though—its wing is broken. Can Callie find a way to help this butterfly fly?
Mother's prize sheep, Snow White, is pregnant and about to give birth. With Dr. Pritzker off helping a colicky horse, it falls to Callie to deliver the lamb. Will Callie be able to take the situation in hand?
About the Author
---
Jacqueline Kelly won the Newbery Honor for her first book, The Evolution of Calpurnia Tate. She was born in New Zealand and raised in Canada, in the dense rainforests of Vancouver Island. Her family then moved to El Paso, Texas, and Kelly attended college in El Paso, then went on to medical school in Galveston. After practicing medicine for many years, she went to law school at the University of Texas, and after several years of law practice, realized she wanted to write fiction. Her first story was published in the Mississippi Review in 2001. She now makes her home with her husband and various cats and dogs in Austin and Fentress, Texas.

Teagan White is a freelance illustrator who specializes in intricate drawings of flora and fauna. Originally from Chicago, Teagan now lives and works in Minnesota, where she received a BFA in illustration from the Minneapolis College of Art & Design in 2012. She is the cover artist for the Calpurnia Tate, Girl Vet series by Jacqueline Kelly.

Jennifer L. Meyer is an award-winning artist whose work has been featured multiple times in the Best in Contemporary Fantastic Art annual, Spectrum. Born into a fantasy-loving military family, she grew up a big fan of comics, reading, and drawing animals (especially bunnies). Jennifer's art has appeared in comic books, children's books, graphic novels, and other media. She is the illustrator of the Calpurnia Tate, Girl Vet series by Jacqueline Kelly.
Praise For…
---
The Curious World of Calpurnia Tate:
"Animal lovers will revel in the abundant anecdotes about the benevolent country vet and Travis' mangy strays. . . . A warm, welcome stand-alone companion to Kelly's lauded debut." —Kirkus Reviews, starred review
"Well worth waiting for. . . . Readers will flock to this sequel for the pleasure of revisiting this beloved character and her world." —Booklist, starred review
"Humor and little heartbreaks abound as Callie learns animal care under the tutelage of Dr. Pritzker, the town's veterinarian. . . . Recommended for fans of the original novel and strong readers who enjoy character-driven narratives." —School Library Journal, starred review
We appreciate your continued support!
If you would like to make a donation to help us through CLICK HERE.