5D Wellbeing: Designing Your Life and Home to Support Your Inner Luminosity (Paperback)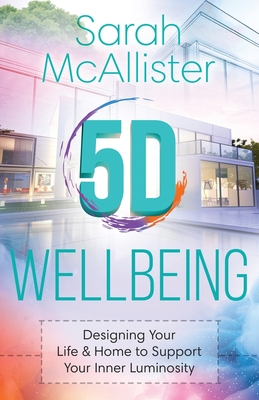 $19.95

Available in our Warehouse: Usually Ships in 3-8 Days
Description
---
Build back brilliantly and help create a greater reset by designing a conscious space for your home. For too long, architects and designers have created ill thought out homes and communal spaces, with devastating impact on the health and wellbeing of communities and the ecological balance. For too long, design has had little other remit than maximising return on investment for developers. This is changing, and now is the perfect time to create homes as true wellness environments. The recent boom in wellness real estate reflects this increased consciousness all over the world, as an acknowledgement of the spiritual impact of design enters mainstream where previously it was the domain of a few bohemian visionaries.
If you are passionate about leading a happier and more fulfilled life, then you need to understand the impact of spatial design on your health, success, and happiness. This book guides you through the fundamental principles of designing the built environment to show you not only how to make better decisions in your designs but also why those factors impact you at a profound level. This knowledge then can motivate you to never compromise when designing your new home or making changes to an existing space.
Diving deeply into the psychology of our innate connection to the natural world and its powerful impact on our wellbeing, the author shows you how to understand the impact of invisible energy on our lives and the confidence to know that small design changes can make a world of difference.
Weaving the principles of ergonomics, eco psychology, mindfulness, classical feng shui, and Chinese astrology, Sarah opens up a new world to you, so you feel empowered to make positive changes knowing that you can truly design your highest life expression. Your environment is a hugely important 33% influence on your life, so it makes sense to make this as supportive as possible.
At a collective level we are poised on the verge of fundamental positive change, with the truth of our sovereign spiritual nature coming to the forefront like never before. 5D Wellbeing shows you how to create your life in harmony with fundamental alchemical forces of the world, by tapping into organic natural dynamics. The 5 elements of ancient Chinese medicine (Water, Wood, Fire, Earth and Metal) reveal profound truths about the world around us and indeed our own characters, and offer a method to access a more spiritual dimension for the enrichment of our own lives and those around us in our wider community.
Gone are the politics of design which neglected the spirit and thus created a world of scarcity, repression and disempowerment. We can design our new earth with full consciousness to manifest harmony, love and wellness in all dimensions.