The Light in High Places: A Naturalist Looks at Wyoming Wilderness, Rocky Mountain Bighorn Sheep, Cowboys, and Other Rare Species (Paperback)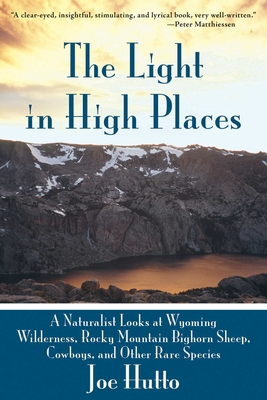 $16.95
This item is not currently available to order.
Description
---
Hutto is living in a tent at twelve thousand feet, where blizzards occur in July and where human wants become irrelevant and human needs can become a matter of life and death—to study the Rocky Mountain bighorn sheep. The population of these rare alpine sheep is in decline. The lambs are dying in unprecedented numbers. Hutto's job is to find out why.

For months at a time, he follows the bighorn herds, meets mountain lions and bears, weathers injury and storms, and beautifully observes the incredible splendor of the Rocky Mountains.

Hutto has a deep connection to Wyoming, having managed a large cattle ranch in his past. He weaves Wyoming's history of the cowboy, mountain ecology, and the lives of the bighorn sheep into a beautiful flowing narrative. Ultimately, he discovers that the lambs are dying of cystic fibrosis due to selenium deficiency, which is caused by acid rain—a grim ecological disaster caused by human pollution. Here is a new twist on a cautionary tale, and a new voice, eloquently expressing the urgency that we mend our ways.
About the Author
---
Joe Hutto: Joe Hutto is a biologist, Emmy Award–winning filmmaker, and keen observer of animal behavior. His first book, Illumination in the Flatwoods, was a critically acclaimed story of his magical experience raising a brood of wild turkeys, which became an award-winning documentary called My Life as a Turkey. He lives in Lander, Wyoming.
Praise For…
---
"A fine fresh gust of mountain air from the Wind Rivers and a wonderful book of elegies and celebrations of the beauty and resilience of wild nature, together with sketches of the dedicated few still fighting to offset the poor stewardship and folly of our greedy species. A clear-eyed, insightful, stimulating, and lyrical book, very well-written throughout." --Peter Matthiessen

"The Light in High Places is an exquisite adventure in the alpine territory of Wyoming that few of us will ever get to see, and it is a powerful call to arms for all of us to gear up and treat our planet with compassion. Hutto writes in the tradition of Thoreau, Aldo Leopold, Rachel Carson, Barry Lopez, and Joseph Wood Krutch. Quite simply, this book is wonderful." --John Nichols, author of "The Milagro Beanfield War"

"The Light in High Places extols the quiet pleasures of living simply and close to nature in Wyoming's wilderness while the author observes bighorn sheep or herds cows. In lucid and lyrical sentences it chronicles the ecological and cultural changes that affect this land--and all our future."—George Schaller, author of Tibet Wild and many others

"The Light in High Places is impossible to put down - an intensely lived and well-researched potpourri of ecology, ethology, geology, anthropology. Joe Hutto's life intersects with the decline of high Rocky Mountain ecosystems and of the cowboy culture that occupied them. Recounting his own struggle for personal fulfillment, he eloquently documents the tragic transformation of a rare wilderness." – Daniel Simberloff, author of Invasive Species

"The Light in High Places is full of intelligence and passion, first-rate storytelling, and, ultimately, transcendence. It is an instant classic—a beautiful profile of a unique place on earth in an alarming and yet exhilarating moment in time."—Rick Bass

"A fine fresh gust of mountain air from the Wind Rivers and a wonderful book of elegies and celebrations of the beauty and resilience of wild nature, together with sketches of the dedicated few still fighting to offset the poor stewardship and folly of our greedy species. A clear-eyed, insightful, stimulating, and lyrical book, very well-written throughout." --Peter Matthiessen

"The Light in High Places is an exquisite adventure in the alpine territory of Wyoming that few of us will ever get to see, and it is a powerful call to arms for all of us to gear up and treat our planet with compassion. Hutto writes in the tradition of Thoreau, Aldo Leopold, Rachel Carson, Barry Lopez, and Joseph Wood Krutch. Quite simply, this book is wonderful." --John Nichols, author of "The Milagro Beanfield War"

"The Light in High Places extols the quiet pleasures of living simply and close to nature in Wyoming's wilderness while the author observes bighorn sheep or herds cows. In lucid and lyrical sentences it chronicles the ecological and cultural changes that affect this land--and all our future."—George Schaller, author of Tibet Wild and many others

"The Light in High Places is impossible to put down - an intensely lived and well-researched potpourri of ecology, ethology, geology, anthropology. Joe Hutto's life intersects with the decline of high Rocky Mountain ecosystems and of the cowboy culture that occupied them. Recounting his own struggle for personal fulfillment, he eloquently documents the tragic transformation of a rare wilderness." – Daniel Simberloff, author of Invasive Species

"The Light in High Places is full of intelligence and passion, first-rate storytelling, and, ultimately, transcendence. It is an instant classic—a beautiful profile of a unique place on earth in an alarming and yet exhilarating moment in time."—Rick Bass