If These Walls Could Talk: Nebraska Cornhuskers: Stories From the Nebraska Cornhuskers Sideline, Locker Room, and Press Box (Paperback)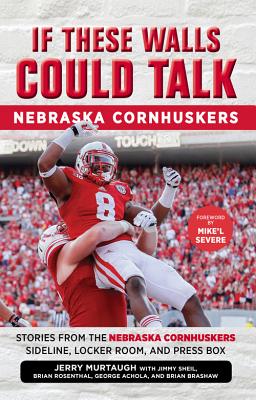 $16.45

Available in our Warehouse: Usually Ships in 3-8 Days
Description
---
Firsthand tales of the most memorable moments in Cornhusker football history

A traditional powerhouse, the Nebraska Cornhuskers are one of the most successful NCAA football teams, with five national championships and the highest winning percentage of any program over the last half century. Authors Jerry Murtaugh, an All-American linebacker at Nebraska in 1970, Jimmy Sheil, George Achola, Brian Rosenthal, and Brian Brashaw, through interviews with current and past players, provide fans with a one-of-a-kind, insider's look into the great moments, the lowlights, and everything in between in Cornhuskers history. Readers will hear from players, coaches, and administrators as they discuss their moments of greatness as well as their defeats, making If These Walls Could Talk: Nebraska Cornhuskers a keepsake no fan will want to miss. 
About the Author
---
Jerry Murtaugh is the host of the Legends Radio Show, in Omaha and Lincoln, Nebraska. He was an All-American linebacker for the Nebraska Cornhuskers and a captain on the 1970 national champion team. He is the founder of the Nebraska Greats Foundation, an organization that helps former Nebraska college athletes with their medical and emergency needs. Jimmy Sheil has covered college sports for ESPN the Magazine and the Omaha World-Herald. They both live in Omaha, Nebraska. Brian Rosenthal has covered Nebraska sports for the Lincoln Journal-Star since 2001. He is an adjunct journalism instructor at Hastings College and is the coauthor of Sports Journalism: An Introduction to Reporting and Writing. He lives in Lincoln, Nebraska. Brian Brashaw lives in Papillion, Nebraska, with his wife and three daughters. He has been writing about sports for 16 years, most recently for nocoastbias.com and Playgrounddad.com. You can find him on Twitter @bbrashaw. Mike'l Severe is the host of the daily sports and news talk show "The Bottom Line" on World-Herald Live. He lives in Omaha, Nebraska.