Stealing All Transmissions: A Secret History of the Clash (Paperback)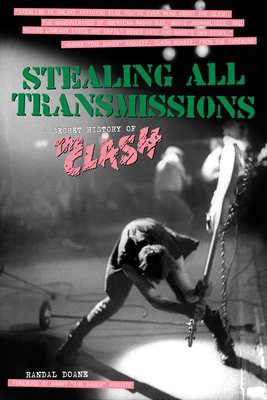 $15.95

Available in our Warehouse: Usually Ships in 3-8 Days
Description
---
Winner of:
2015 Independent Publisher Book Awards, Silver Award, Popular Culture

Stealing All Transmissions is a love story. It's the story of how the Clash fell in love with America and how America loved them back. The romance began in full in 1977, when select rock journalists and deejays aided the band's quest to depose the rock of indolence that dominated American airwaves. This history situates the Clash amid the cultural skirmishes of the 1970s and culminates with their September 1979 performance at the Palladium in New York City. This concert was broadcast live on WNEW, and it concluded with Paul Simonon treating his Fender bass like a woodcutter's ax. This performance produced one of the most exhilarating Clash bootleg recordings, and the photo of Simonon's outburst that graced the cover of the London Calling LP was recently deemed the greatest rock 'n' roll photograph of all time. The book represents a distinctive take on the history of punk, for no other book gives proper attention to the forces of free-form radio, long-form rock journalism, or Clash bootleg recordings, many of which are now widely available on the web. This story, which takes its title from the 1981 single "Radio Clash," includes original interviews with key figures from the New York punk scene.
About the Author
---
Randal Doane is an assistant dean at Oberlin College. He has published essays and articles on music and aesthetics, illegal file-sharing, Ralph Ellison, Sigmund Freud, Brian Wilson, and Bruce Springsteen, and blogs about the post-punk era at stealingalltransmissions.wordpress.com. He lives in Oberlin, Ohio. Barry "the Baker" Auguste served as backline roadie and drum tech for the Clash from 1976 to 1983. He blogs periodically at thebaker77.wordpress.com. He lives in Philadelphia.
Praise For…
---
"Randal Doane's take on this chapter in music history is unique because he spoke to a lot of people who were part of the wheel that rolled The Clash forward . . . This was a hungry young band with righteous anger at social injustice and Randal captures that vibe that was so vital . . . before the money started rolling in and muddied the waters for these dedicated punk rockers." —DJ Meg Griffin, formerly at WNEW-FM and WPIX-FM, SiriusXM Radio 

"With Stealing All Transmissions, Randal Doane documents with wit and verve how The Clash leapt from the Westway to the USA in 1979 with the help of rock journalists and key deejays in the States. It was an honor to work with The Clash back in the day, and a pleasure revisiting those days through this book. Doane's passion for The Clash and their comrades resonates on every page of this dynamic read. Stealing's a must have for Clashophiles on both sides of the Atlantic." —Dan Beck, former senior vice president at Epic Records,managing partner, Big Honcho Media

"Randal Doane's Stealing All Transmissions: A Secret History of the Clash is not the story I was expecting from the title. Thankfully. We have all read those books about artists of all stripes (and zippers), from which we learn only about misery, malfeasance, and bad behavior. But this is not that book. The Clash is at the center of the story, but the heart of it belongs to other players. People drawn into the orbit who cared, who pushed both themselves and the band forward, who took risks because they felt and knew they were seeing and hearing a revolution. The people who were excited and inspired by the catalysts (The Clash), whose stories are integral to the core of the band's American journey, and fascinating to finally read about, all in one place. [...]  Ladies and gentlemen, please raise your glasses and cans to Messrs. Doane and Auguste. A triumphant work from this unlikely Gang of Two." —Hugo Burnham, founder and drummer, Gang of Four, associate professor, New England Institute of Art 

"Quite unlike anything else you've read about The Clash thus far...a unique take. . . . research is strong and well formulated. . . . perspective provides such depth. . . . a great read." —The Clash Blog

"Stealing is a must-read for music fans of all varieties, for it's much more than a book about The Clash. With a captivating narrative and well-written prose, Stealing makes sense of what happened to free-form radio and the DIY ethic of punk, and deftly connects that history to the era of file-sharing and satellite radio. Don't miss this book. Steal it if you must!" —Michael Roberts, author, Tell Tchaikovsky the News: Rock 'n' Roll, the Labor Question, and the Musicians' Union, 1942–1968 

"Doane's diligence and scrutiny reminds readers about when inventive music, combative attitudes, and intelligent lyrics mattered for millions of fans." —John L. Murphy, Spectrum Culture

"Stealing All Transmissions is a wonder of a book. Slim, yes, but nearly every page is filled with insight and originality. It sets a high bar for the many more volumes that will undoubtedly be written about the Clash in the years ahead." —Adam Ellsworth, artsfuse.org

"Stealing All Transmissions distills one fan's decades of wide reading, deep listening, and just plain thinking into a multi-faceted gem." —Kathy Shaidle, pjmedia.com

"Above all, the book helps explain factors crucial to any fan's understanding and appreciation of this often most misrepresented of groups." —Kris Needs, Record Collector

"Although The Clash are one of the most chronicled of punk bands, Doane's history stands apart, because it dwells on how the band found America – and equally, how the music business, media and ardent fans discovered them – and forged a new landscape of popular culture." —Big Takeover