Baby Boomer Survival Guide, Second Edition: Live, Prosper, and Thrive in Your Retirement (Paperback)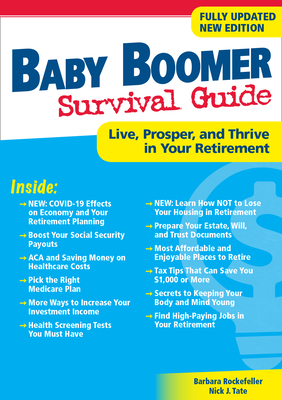 $24.99

Available in our Warehouse: Usually Ships in 3-8 Days
Description
---
FULLY UPDATED & REVISED SURVIVAL GUIDE FOR BABY BOOMER GENERATION ENTERING RETIREMENT
***INCLUDES UP-TO-DATE CHANGES DUE TO LIFE WITH COVID-19***
Baby Boomer Survival Guide, Second Edition: Live, Prosper, and Thrive in Your Retirement is the premier roadmap to retirement for anyone focused on financial security. This is a comprehensive, easy-to-understand guide that covers all the significant financial, healthcare, and lifestyle-related considerations today's Baby Boomer generation needs to know.
This Essential Happiness Handbook to Financial & Health Security Includes Key Topics:
How to Live a Long, Happy, Healthy Life
Expanding Your Interests, Hobbies, Social Network, Community Involvement & Quality Time with Family
Where to Live & Where to Travel
What to Do With Your Extra Years
Strategies for Not Outliving Your Savings
Financial Planning and Investing: Rules for Success
Taking Advantage of the Trump Tax Cuts
Homeownership vs. "Real Estate" & Renting vs. Buying
WORKING in Retirement
Social Security Optimization Strategies
Having a Medicare Game Plan
Key Questions and Answers to Long-Term Care
Why You Should Think About Inheritance
Wills, Trusts & Taking Care of Your Family
A little planning and foresight can go a long way toward making sure your hopes and ideals for retirement don't collide with harsh economic, financial, and health-related realities. Baby Boomer Survival Guide will give you the wherewithal to make your retirement the rich-est, most fulfilling chapter in the book of your life -- for yourself and your loved ones.
About the Author
---
Barbara Rockefeller (Hopewell, VA) is founder of foreign exchange forecasting firm Rockefeller Treasury Services, has over twenty years of financial institution experience in all aspects of foreign exchange, including trading, analysis, and risk management. She has a Bachelor's Degree from Reed College in Portland, OR, and a Master's in International Affairs from Columbia University in New York City. Rockefeller has authored four books, and writes a monthly column for Currency Trader, as well as articles and book reviews for Active Trader and Stocks, Futures, & Options. https: //rts-forex.com/ The author lives & works in the Washington DC metro area.