The Anime Chef Cookbook: 75 Iconic Dishes from Your Favorite Anime (Hardcover)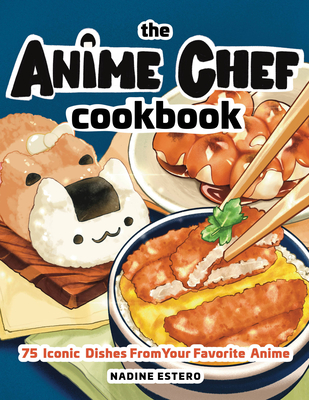 Description
---
Bring your favorite anime foods to life with 75 recipes
—
from traditional Japanese favorites to inventive recreations
—
that are easy to make, fun, and delicious.
Food plays an important role in anime, whether it is briefly shown in a slice-of-life scene or the entire plotline of an episode or even a series, and popular anime food creator Nadine Estero (@issagrill) has perfectly captured these favorite food moments. In 
The Anime Chef Cookbook
, she brings 75 appetizers, mains, desserts, and drinks from the screen to your table so that you can enjoy the same foods as your favorite characters, with recipes including:  
Haikyuu!! steamed pork buns
Food Wars! soufflé omelet
Isekai Izakaya pork katsu sandwich
My Hero Academia cold soba
March Comes in Like a Lion pampered udon
Dragon Ball Z meat lover's meat feast
Kiki's Delivery Service chocolate cake
Your Name strawberry pancakes with macarons
Clannad starfish scones
Laid-Back Camp hot buttered rum cow
and much more!
Along with the easy-to-follow recipes are stunning anime-style food illustrations and information about the exact episodes that feature the foods, allowing
The Anime Chef
to immerse you in your favorite animated worlds while satisfying your appetite.
About the Author
---
Nadine Estero (@issagrill) knew at the young age of 6 that anime was life. She cried dramatically and begged her mother to immediately stop her piano lessons because it interfered with the airtime of her favorite anime—Dragon Ball Z. Today, Nadine is a food recreationist who shows her enthusiasm and process through her popular social media accounts on platforms including YouTube and TikTok. Her creations are recognized worldwide in many large entertainment websites and publications such as ScreenRant, Dexerto, GaminqDebates, SVG, Kompas, and Speed Maqazine.