Fine: A Comic About Gender (Paperback)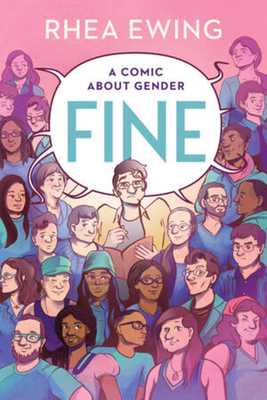 Staff Reviews
---
Fine is an excellent combination of graphic memoir and interviews with others. Ewing's insistence on including multiple viewpoints on gender--regardless of whether they seamlessly align--allows for a diversity of experiences, and consequently, for a fittingly complex definition of what gender is and how it functions in our society. Regardless of your relationship to your gender, there is something here for you to consider. You will learn about other people's experiences, but you will also walk away asking more robust questions of yourself, about who you are and how you move through the world.
— Anna S
Description
---
Washington Post • 10 Best Graphic Novels of 2022



A vibrant and informative debut with "great documentary power" (Alison Bechdel), Fine is an elegantly illustrated celebration of the transgender community.
As graphic artist Rhea Ewing neared college graduation in 2012, they became consumed by the question:
What is gender?
This obsession sparked a quest in which they eagerly approached both friends and strangers in their quiet Midwest town for interviews to turn into comics. A decade later, this project exploded into a sweeping portrait of the intricacies of gender expression with interviewees from all over the country. Questions such as "How do you Identify" produced fiercely honest stories of dealing with adolescence, taking hormones, changing pronouns—and how these experiences can differ, often drastically, depending on culture, race, and religion. Amidst beautifully rendered scenes emerges Ewing's own story of growing up in rural Kentucky, grappling with their identity as a teenager, and ultimately finding themself through art—and by creating something this very fine. Tender and wise, inclusive and inviting,
Fine
is an indispensable account for anyone eager to define gender in their own terms.
About the Author
---
Rhea Ewing (they/them) is a comic illustrator and fine artist who graduated from University of Wisconsin–Madison with a BFA in drawing and printmaking. They currently live in California, taking artistic inspiration from the state's diverse landscapes.
Praise For…
---
A stunning graphic novel about gender expression from people all over the country.
— Karla J. Strand - Ms. Magazine

In Ewing's ambitious debut, they conduct and draw dozens of interviews over a decade to chart the murky waters of gender.... The scope demonstrates the diversity of experiences and personal relationships to gender within the trans community; some participants hold concrete ideas, while others describe gender and its performance as "loose" and celebrate its contradictions and complexities.... Each section (titled "Masculinity," "Expression," "Body Feelings," and so forth) opens with an expressionistic, tone-setting splash page, and the portraiture art is clean-lined but nuanced enough to handle the diversity of characters.... This thought-provoking work will appeal to those seeking a robust, personal exploration of how gender shapes lives.
— Publishers Weekly, starred review

In their debut book, Ewing offers a timely, educative, and vividly rendered illustrated portrait. . . The author deftly assembles the most resonant responses, showing the participants generously discussing how gender is interconnected with race, culture, and sexuality; how it moves far beyond conventional masculine and feminine designations; and how embracing fluidity can be liberating and transformative regardless of social norms of appearance and behavior, many of which are constrictive and damaging. . . Ewing presents a uniquely straightforward, unembellished amalgam of narrative and illustration, smoothly braided with their own personal journey. The instructive yet never heavy-handed narrative boldly shows how identity is intimately interpreted and how connections with others can fortify perceptions and perspectives. A vital, richly textured resource for anyone seeking a better understanding of gender identity.
— Kirkus Reviews, starred review

[A] wondrous tapestry of personal reflections and meditations on how people view subjects like gender, masculinity, femininity, and community . . . Ewing's art beautifully reflects the individuality and wishes of their subjects . . . Recommended for everyone who cares about better understanding the complicated, varied, gorgeous mess that is gender.
— Sarah Rice, Booklist, starred review