In Business with Bees: How to Expand, Sell, and Market Honeybee Products and Services Including Pollination, Bees and Queens, Beeswax, Honey, and More (Paperback)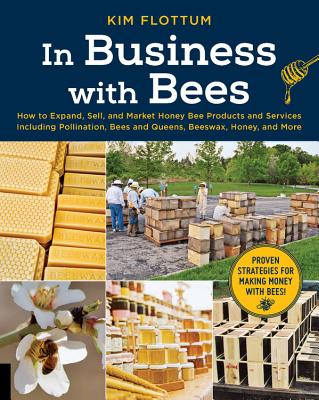 $30.79
This item is not currently available to order.
Description
---
Ready to take your beekeeping skills to the next level? In Business with Bees provides the answers you need.
This book takes serious beekeepers past the beginning stages and learning curves and offers practical, useful advice to move your passion into a part-time or full-time career with measurable results. This
beekeeping business how-to guide
offers all of the in-depth advice you need, in one place.
Writing a business plan
Finding the best sources for funding
Determining what your facilities will be and how to acquire them
Getting and installing the right equipment
Cooperating with other local businesses
Stocking inventory and managing warehouse space
Finding customers
Raising and selling queens, packages, and nucs
Expanding pollination, including contracts to protect you
Making and selling peripheral products from wax, propolis, and honey
Organizing teaching, speaking, and planning events
Hiring and managing your growing team
Promoting your business
Measuring your success
This book provides solutions for all your beekeeping business questions, from start to finish. With this knowledge, you can become as knowledgeable, confident, and successful in running a business as you are in beekeeping.
About the Author
---
Kim Flottum brings a rich background of plant science, honey bee research, and basic farming to his 30 years as the editor of Bee Culture magazine, where his main occupation has been finding the answers to the multitude of questions that beginning, intermediate, and even advanced and experienced beekeepers bring to the table. He teaches beginning and advanced beekeeping courses, travels extensively to educate and lecture, and contributes to a variety of other publications on the basics of honey bees and beekeeping biology, the business of bees and pollination, producing and using varietal honeys, and a host of other subjects. He is the author of The Backyard Beekeeper, First Time Beekeeping, In Business with Bees, and Common Sense Natural Beekeeping. His books, magazine articles, interviews, and blogs are widely read for both their fundamental and advanced contribution to beekeeping knowledge. He is beekeeping's leading advocate for fundamental honey bee safety, including insuring excellent honey bee health, providing extraordinary forage, and minimizing the use of agricultural pesticides.
Praise For…
---
ENDORSEMENTS FOR BETTER BEEKEEPING:
"Better Beekeeping is the most lucid call to action ever written about land-based beekeeping."
—Tammy Horn, author of Bees in America and Beeconomy: What Women and Bees Can Teach Us about Local Trade and the Global Market
 
"There are numerous beekeeping books on the shelves that instruct on 'how to,' but Better Beekeeping is a book that explores 'why to,' which is essential for this ever-changing world of beekeeping today."
—Jennifer Berry, research coordinator at the University of Georgia's Honey Bee Research Lab, commercial queen and nuc producer, and columnist for Bee Culture magazine
 

"Where was this book when we started? I know that we could have skipped many of the growing pains if we would have had a book like this to learn from and refer to."—Paige and Tom Bennett, cofounders of Bennett Apiaries, Inc. (Red Bluff, CA)

"This is a great outline for those interested in making their passion into a business. Here you will find thought-provoking questions and answers to many of the pitfalls that bring businesses to their knees."—Kimberly and Ben Carpenter, EAS Master Beekeepers and the owners of Hungry Bear Farms, Ross Rounds,

"How many times has someone, fairly new to honey bees and beekeeping, thought about opening a 'bee business' selling honey, offering pollination services, making endless creative candles and plunged ahead without guidance? And how many times has that dream…turned into disaster? This book will show those dreamers the possibilities and realities of creating a successful business, either small or large."—Ann Harman, international beekeeping author and editor