1-2-3 My Feelings and Me (Hardcover)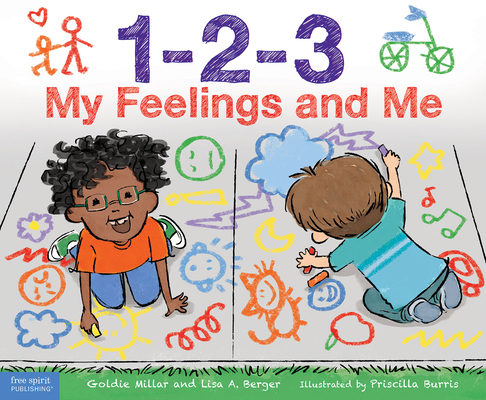 $17.59
This item is not currently available to order.
Description
---
Award-winning counting book invites young children to learn about coping with emotions.

Young children often need help grasping the complexities of their feelings, which can sometimes be overwhelming. When children learn from an early age to handle their emotions in healthy ways, they are more likely to grow into adults who feel capable of facing life's challenges.

This friendly, positive picture book helps children understand their feelings better, giving them coping strategies for communicating and managing emotions more effectively. Using an inviting counting format, 1-2-3 My Feelings and Me invites children and adults to count to ten as they share and explore feelings together. "We feel our feelings in two important ways, in our bodies and in our minds. Our bodies may feel hot, shaky, or calm. Our minds and our thoughts might be telling us we are scared, or excited, or unhappy." Along with presenting tools and strategies, the book reinforces emotional language and the ideas that while some feelings are more comfortable than others, all emotions are natural and important.
 
About the Author
---
Goldie Millar, Ph.D., is a clinical and school psychologist. Since earning her Ph.D. in counseling psychology from the University of Toronto in 2003, Goldie has worked with children in hospital, forensic, community, and educational settings. She has a deep interest in children's mental health, emotional regulation, and evidence-based intervention strategies. Goldie lives in Ontario with her husband and their two young daughters.

Lisa Berger, Ph.D., is a clinical, counseling, and rehabilitation psychologist who works with adolescents and adults in a private practice. In 2003, Dr. Berger received her Ph.D. in psychology from the University of Toronto. She has practiced in hospitals, post-secondary institutions, and community-based settings. Lisa's professional interests include emotional health and wellness, psychological trauma, and emotion-based therapy. She lives in Ontario with her husband and two daughters.

Priscilla Burris holds a creative design degree from the Fashion Institute of Design and Merchandising, as well as an early childhood education certificate. She is a member of the Board of Advisors for the Society of Children's Book Writers and Illustrators and is also its US illustrator coordinator and advisor. She lives in Southern California.
Praise For…
---
2022 NYC Big Book Award, Wellbeing Children's

"Recommended."
— School Library Journal

"Understanding our feelings is a complex challenge for any of us—and especially for children, who can be overwhelmed by the unruly emotions they sometimes experience. 1-2-3 My Feelings and Me is a valuable tool for any parent or teacher trying to help children accept, understand, and manage their own emotions."
— Paul Tough, Canadian-American writer, broadcaster, and author of Whatever It Takes and How Children Succeed