Goodbye, Anxiety: A Guided Journal for Overcoming Worry (A Guided CBT Journal with Prompts for Mental Health, Stress Relief and Self-Care) (Diary)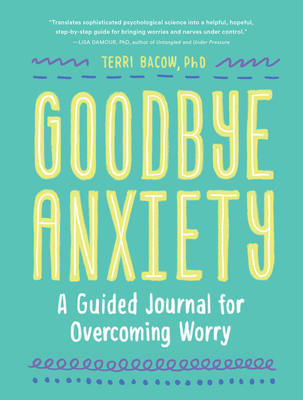 Description
---
"Goodbye, Anxiety translates sophisticated psychological science into a helpful, hopeful, step-by-step guide for bringing worries and nerves under control."
—Lisa Damour, PhD, author of Untangled and Under Pressure

In today's world, who isn't feeling stressed? From the everyday—work, school, relationships, social media—to the unprecedented, you may often feel anxious and overwhelmed. That's why psychologist Terri Bacow, Ph.D., developed this workbook to help you find relief with accessible and helpful writing exercises designed to diminish worries, insecurities, fears, conflicts, and stressors for your unique issues.

Learn practical, yet highly effective, coping skills developed from cognitive-behavioral therapy, dialectical behavioral therapy (DBT), and other scientifically-based therapy approaches to use whenever you're feeling anxious. 

Includes:
 
100+ journaling prompts that offer space to write down your worries and release your anxious feelings
 
40+ CBT- and DBT-based strategies to help you challenge worry thoughts and conquer anxiety-inducing thinking patterns
 
50+ practical tools, including coping strategies and supportive statements that you can use whenever you feel anxiety starting to take hold
 
Say goodbye to anxiety, let go of worries, and take back your life!



About the Author
---
A Brown University graduate, Dr. Terri Bacow received her doctorate in clinical psychology from Boston University, where she trained at the Center for Anxiety and Related Disorders. An expert in cognitive behavioral therapy (CBT), Dr. Bacow has authored several peer-reviewed papers based on her research, and works with clients in her private practice. She has been featured in Women's Health and Shape magazines. When not seeing patients, she loves watching tv, exchanging memes with her friends, and engaging in affordable retail therapy! Dr. Bacow lives with her husband and two children in New York City. Learn more about her at www.drterribacow.com and @drterribacow.


Erin Wallace is an illustrator and artist living in Seattle, Washington. Her work balances simplicity and depth while remaining fun and approachable.
Praise For…
---
"Goodbye, Anxiety translates sophisticated psychological science into a helpful, hopeful, step-by-step guide for bringing worries and nerves under control. Dr. Terri Bacow has created an invaluable resource that will help teens and young adults understand how anxiety works, how to manage it, and how to find a lasting sense of calm."
—Lisa Damour, PhD, author of Untangled and Under Pressure

"Wow! This book does the near impossible. It gives you a practical, simple, proven way to eliminate toxic worry from your life and subdue anxiety."
—Edward Hallowell, MD, author of ADHD 2.0

"Goodbye, Anxiety offers support, empathy and—most importantly—actionable activities and guidance to help readers overcome worry, increase self-esteem and feel less alone. I couldn't recommend this book more highly."
—Lindsey Pollak, New York Times–bestselling author of Getting from College to Career and Recalculating: Navigate Your Career Through the Changing World of Work

"Goodbye Anxiety is a book that you will use and re-use as you navigate life and all it throws at you."
—Rachel L. Goldman, PhD, clinical assistant professor at NYU School of Medicine, licensed psychologist, media contributor, speaker, and consultant
 
"Dr. Bacow is an incredibly gifted scholar and clinician who has designed such an innovative, user-friendly tool for youth—Goodbye, Anxiety is full of evidence-based strategies to help teens manage worry and anxiety."
—Donna B. Pincus, PhD, CAS Feld Family Professor of Teaching Excellence at Boston University and author of Growing Up Brave: Expert Strategies for Helping Your Child Overcome Fear, Stress, and Anxiety

"Goodbye, Anxiety should be essential reading for everyone. Dr. Bacow does a superb job communicating evidenced-based practices to her audience in an age-appropriate and highly entertaining manner."
—Jaime Zuckerman, PsyD, licensed clinical psychologist, media contributor, mental health social media influencer, author, and podcast host of It's Me, Dr. Z with JB

"Goodbye, Anxiety provides a welcoming format for teens, young adults (and, shh…even their parents!) to develop and refine an accessible toolkit and habits that will help them to successfully navigate anxiety now and in the future."
—Jill Emanuele, PhD, senior director of the Mood Disorders Center at Child Mind Institute
 
"Goodbye, Anxiety blends effective techniques for managing emotions and distress with an engaging, witty, and useful journal format that allows you to helpfully examine and manage anxiety-related behaviors."
—Jill Ehrenreich-May, PhD, professor and director of the Child and Adolescent Mood and Anxiety Treatment Program at University of Miami

"With this book, Dr. Bacow brings her time-tested, highly sought-after clinical skills directly to your home, no appointment necessary. A must-read for anyone looking to reduce the impact of stress and anxiety on their minds, bodies, and lives." —Uraina Clark, PhD, assistant professor of neurology, director of the Neuropsychology and Neuroimaging Laboratory, and associate director of the MD-PhD Dual Degree Program at the Icahn School of Medicine at Mount Sinai