Tropical Lung: exi(s)t(s) (Paperback)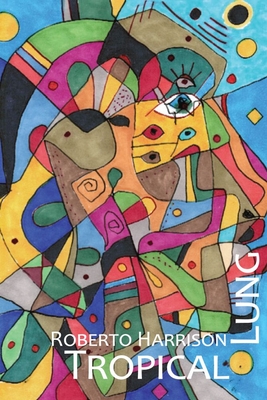 Description
---
Tropical Lung is a collection of writings and drawings from and to a new homeland, a vision of Panamá and the Tecumseh Republic where technology is necessary for understanding the ancient, then is erased and transcended by an ever-present electronic circle. Roberto Harrison combines poetry and visual art in this surrealist vision of a world both historical and reborn, where the futuristic links to the ancient. Harrison looks to symbolic beginnings, spaces of light and mystery that counter disassociation with explorations of the foundational structures of personhood.

Tropical Lung shows how apocalypses can give us the keys to new futures and how aloneness and silence can lead us to live multidimensionally, beyond the boundaries of time and space. The screen makes itself known and offers a means of kinship, but it is also removed by song and born in the red of encounter and the dark of seven pupils. These wild visions coalesce into a fantastic vision of a future both technological and communal.
 
About the Author
---
Roberto Harrison is a visual artist and poet. His books include Yaviza, Bridge of the World, culebra, bicycle, Counter Daemons, and Os, along with many chapbooks. He coedited the poetry journal Crayon, and he is the editor of Bronze Skull Press. He lives in Milwaukee and was the Milwaukee Poet Laureate from 2017 to 2019.
 
Praise For…
---
"I am incredibly thankful for this new book of poetry, prose, and drawing from the great Latino surrealist and one of the most generous and generative voices in poetry today, Roberto Harrison. In Tropical Lung, Harrison redoubles his commitment to sewing together the animal, the land, the human, the climate, and the technological. With sleight-of-hand and dense runic images, this book leads its reader into 'the anti-silence of the Amazon,' where we may just find a better way to belong. To think clearly in unclear sound is Harrison's persistent aspiration, and the addition of Tropical Lung to his rich body of work brings this aspiration closer to reality for all of us."
— Gabriel Ojeda-Sague, author of Losing Miami

"To play the poems of Tropical Lung inside yourself, to ingest its program, is to open a promise that, like Macutté Mong who drew the colonizers' executionary axe from out his head, we might 'abolish the binary hatchet' disturbing ourselves and cultures towards destruction, and live instead in Mabila, in a 'multiplicity of interface,' in a posthuman imaginary, as Tecs in Tecumsah's republic. Harrison's recent books construct together a hugely ambitious visionary poetics of the Americas, and Tropical Lung: exi(s)t(s) is his most ambitious yet. I can't sufficiently stress how much we need what Harrison's writing dreams."
— Lewis Freedman, author of Residual Synonyms for the Name of God

"Harrison's Tropical Lung is a shock of breath in the hemispheric heat. Each word is a sleepless, gasping shadow of the metamorphoses happening in the poet's bones and the continent's convulsions. And all those shadows sink into the light of his relentless rhythm giving origin to words. Tropical Lung takes breath to the source of its origins in songs, dreams, star clusters, revolutions, and strokes of fiery color."
— Edgar Garcia, author of Skins of Columbus: A Dream Ethnography

"Harrison is a visionary. I mean he is one who sees beyond ordinary reality, and further he has the skill to transmit these visions—in Tropical Lung they appear as transmogrified psychedelia of the spirit, which is to say pure spirit, rendered through sweat and song and ceremony. They are gorgeous and astonishing, in all their animal, vegetable, cosmological, and mechanical forms, 'within and after nature,' all arising and hybridizing in a mixed futurity, which also a past-present and a spacetime. He calls this the Tecumseh Republic, a place for harmony and 'desirable dissonance,' an earth-oriented society without borders: 'the only viable future for the United States.'"
— Julian Talamantez Brolaski, author of Of Mongrelitude