Amalia's Mesoamerican Table: Ancient Culinary Traditions with Gourmet Infusions (Hardcover)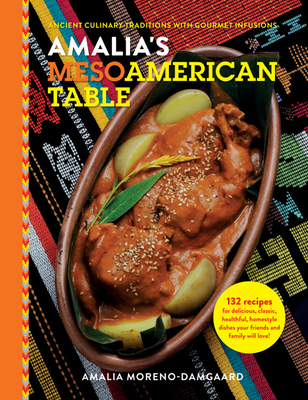 $45.00
This item is not currently available to order.
Description
---
South-Central Mexican and Central American Gourmet Cuisine & Culture
With a wide array of edible plant biodiversity and historical wealth, Mesoamerica offers naturally vegan, vegetarian, gluten-free foods, and more. But fully enjoying the dishes of this region isn't possible without understanding how the ancient cultures behind them came to be. In Amalia's Mesoamerican Table, chef Amalia Moreno-Damgaard uses her signature blend of timeworn culinary traditions with modern infusions to create fresh and healthy recipes sure to entice home cooks and trained chefs alike.
Besides vivid photography of every dish, Amalia's Mesoamerican Table features 132 recipes plus variations of traditional dishes from Amalia's upbringing in her native land and travels in South-Central Mexico, Guatemala, El Salvador, Honduras, Nicaragua, Costa Rica, and Panama, as well as historic and personal anecdotes of her time cooking with multiple generations of indigenous natives in the area. From tantalizing drinks and cocktails to appetizers, scrumptious rice and vegetable creations, light and hearty soups, ancestral cookery, coastal delights, baked goods, artisan sweets, and more, this cookbook takes readers on a comprehensive trip across Mesoamerica without ever leaving the kitchen. Amalia's Mesoamerican Table will leave every reader with deep appreciation for this biodiverse, pluricultural, and multi-ethnic region.