Apartment (Hardcover)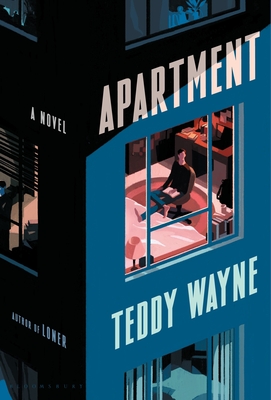 Description
---
Named a Most-Anticipated Book by The New York Times, Vogue, The Boston Globe, Salon, The Millions, Inside Hook, and Vol. 1 Brooklyn / Joyce Carol Oates Literary Prize
"Draftsmanlike precision...it leaves one feeling vaguely ill, in the best way possible. A near-anthropological study of male insecurity." - Kirkus Reviews (starred review)

From the award-winning author of Loner and The Love Song of Jonny Valentine, a powerful novel about loneliness and friendship, gender and sexuality, and the political schisms that dominate our times.
In 1996, the unnamed narrator of Teddy Wayne's Apartment is attending the MFA writing program at Columbia on his father's dime and living in an illegal sublet of a rent-stabilized apartment. Feeling guilty about his good fortune, he offers his spare bedroom--rent-free--to Billy, a talented, charismatic classmate from the Midwest eking out a hand-to-mouth existence in Manhattan.
The narrator's rapport with Billy develops into the friendship he's never had due to a lifetime of holding people at arm's length, hovering at the periphery, feeling "fundamentally defective." But their living arrangement, not to mention their radically different upbringings, breeds tensions neither man could predict. Interrogating the origins of our contemporary political divide and its ties to masculinity and class, Apartment is a gutting portrait of one of New York's many lost, disconnected souls by a writer with an uncommon aptitude for embodying them.
"The rare page-turner that always maintains its dignity as a moving portrait of loneliness and longing." –Joshua Ferris, author of Then We Came to the End
About the Author
---
Teddy Wayne is the author of Loner, The Love Song of Jonny Valentine, and Kapitoil. He is the winner of a Whiting Writers' Award and an NEA Creative Writing Fellowship as well as a finalist for the Young Lions Fiction Award, the PEN/Bingham Prize, and the Dayton Literary Peace Prize. He is a regular contributor to the New Yorker, the New York Times, and McSweeney's.
Praise For…
---
"Darkly comic and emotionally intelligent… Wayne elevates Apartment from a convincing historical facsimile to a work of art." —The Boston Globe, "Most Anticipated Books of 2020"
"One of New York City's most ephemeral glories-the illegally subleased, rent-stabilized apartment-provides the base for this novel, which delves into how shared space can make for a powerful, if imperfect, bond between men." —Vogue, Best Books of 2020
"A deftly composed novel…its ideas about masculinity, gender, and class will rattle around your mind for ages." —Elle, "Best Books of 2020 So Far"
"It's 1996, and Wayne's achingly lonely narrator is enrolled in Columbia's M.F.A. program, where he finds solace in an unexpectedly intense friendship with a fellow student, Billy. When he offers Billy the chance to live rent-free in his apartment, the relationship becomes a crucible, driven by questions about power, class and masculinity." —The New York Times, "14 New Books to Watch for in February"
"Wayne's latest foray into the dark minds of lonely young men follows the rise and fall of a friendship between two aspiring fiction writers on opposite sides of a vast cultural divide. . . . [He] captures the nuances of this dynamic-a musky cocktail of intimacy and rage and unspoken mutual resentment-with draftsmanlike precision, and when the breaking point comes, as, of course, it does, it leaves one feeling vaguely ill, in the best way possible. A near-anthropological study of male insecurity." —Kirkus Reviews, Starred Review
"There's perhaps no living writer better at chronicling the most crucial emotional flash points of the young modern male than Teddy Wayne… Wayne's knack for unpacking the fragility of masculinity continues to shine in his latest book, the slim, binge-worthy Apartment, especially when it's bundled up in themes of artistic worth and privilege." —The A.V. Club
"The rare page-turner that always maintains its dignity as a moving portrait of loneliness and longing." —Joshua Ferris, author of THEN WE CAME TO THE END
"In Apartment, class, ambition, and New York real estate are the components in one mortal's struggle to know the world and its surprises about who is outsmarting what. A terrific piece of work." —Joan Silber, author of IMPROVEMENT
"Apartment is a piercing investigation of male intimacy, privilege, and literary ambition that's as witty and insightful as it is heartrending. I couldn't look away." —Julie Buntin, author of Marlena
"Apartment is full of keenly observed, stinging insights that compound in intensity long after the initial read." —Ling Ma, author of Severance
"What a remarkable rarity--a guy-meets-guy novel about male friendship and intimacy. Apartment is a propulsive and powerfully focused exploration of masculine insecurity, anxiety, and ambivalence." —Chris Bachelder, author of The Throwback Special
"Subtle, fascinating. . . Wayne excels at creating a narrator both observant of his surroundings and deluded about his own feelings . . . A careful meditation on class and power." —Publishers Weekly
"Wayne emphasizes the gap between social isolation and an intense internal life, and uses the contrast to explore contemporary cultural anxieties in tenderly close focus." —Booklist
"Teddy Wayne has an uncanny ability to teleport to another location and inhabit the people who live there...Dark and compulsively readable... Wayne skillfully shows us every disturbing and obsessive moment...a tightly written, tensely memorable short novel." —Meg Wolitzer, NPR's Best Books of the Year on LONER
"More than a scabrous sendup of American celebrity culture; it's also a poignant portrait of one young artist's coming of age." —Michiko Kakutani, The New York Times on THE LOVE SONG OF JONNY VALENTINE
"Kapitoil is one of those uncommon novels that really is novel." —Jonathan Franzen
"Wayne's attention to detail and language serves almost as a surgeon's scalpel, gently peeling back layered topics - friendship, class, sexuality - to reveal an engrossing survey of male insecurity and frailty…Carefully written and evocative with an airtight plot." —Salon, "7 must-read novels to transport you in February"
"Teddy Wayne has a knack for taking the darkest thoughts and feelings men might have, holding a mirror up to them and then churning out books that will stick with you long after you finish them… Read Loner and Apartment to find out why Wayne is one of our most important contemporary authors." —InsideHook.com, "The 6 New Books You Should Be Reading This February"
"There's a trickiness and intimacy to Wayne's tale of two aspiring novelists that makes it more than a yarn about literary ambition. For one thing, it's a savvy class novel." —USA TODAY