Nothing Can Hurt You (Hardcover)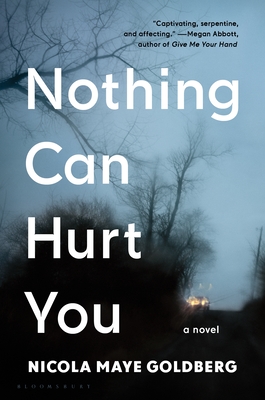 Staff Reviews
---
Nicola Maye Goldberg's excellent novel weaves together the stories of people impacted by the seemingly senseless murder of a college student by her boyfriend in the late 1990s. The story is beautifully constructed - a constellation of narratives that serve to illuminate secrets and propel the reader deep into the mystery. I was mesmerized.
— Suzanna
Description
---
BEST BOOKS OF SUMMER 2020 - PEOPLE MAGAZINE, VOGUE, CNN, REFINERY29, CRIMEREADS, and more

"Captivating, serpentine, and affecting." -Megan Abbott

"A gothic Olive Kitteridge mixed with Gillian Flynn . . . Masterful." -Vogue

"Fascinating." -Sarah Lyall, New York Times Book Review

"Gripping and tremendously searing." -Leslie Jamison

"Reinvents the thriller for a new generation." -Rebecca Godfrey

"Gone Girl for the new decade." -Vogue.com

"A beautifully crafted novel with a terrifying story to tell. I couldn't put it down." -Paul La Farge

Inspired by a true story, this haunting debut novel pieces together a chorus of voices to explore the aftermath of a college student's death.

On a cold day in 1997, student Sara Morgan was killed in the woods surrounding her liberal arts college in upstate New York. Her boyfriend, Blake Campbell, confessed, his plea of temporary insanity raising more questions than it answered.

In the wake of his acquittal, the case comes to haunt a strange and surprising network of community members, from the young woman who discovers Sara's body to the junior reporter who senses its connection to convicted local serial killer John Logan. Others are looking for retribution or explanation: Sara's half sister, stifled by her family's bereft silence about Blake, poses as a babysitter and seeks out her own form of justice, while the teenager Sara used to babysit starts writing to Logan in prison.

A propulsive, taut tale of voyeurism and obsession, Nothing Can Hurt You dares to examine gendered violence not as an anomaly, but as the very core of everyday life. Tracing the concentric circles of violence rippling out from Sara's murder, Nicola Maye Goldberg masterfully conducts an unforgettable chorus of disparate voices.
About the Author
---
Nicole Maye Goldberg is a graduate of Bard College and Columbia University. She is the author of the novella Other Women (Sad Spell Press, 2016) and the poetry collection The Doll Factory (Dancing Girl Press, 2017). Her work has appeared in CrimeReads, The Quietus, Queen Mob's Tea House, Winter Tangerine, and elsewhere. She lives in New York City.
Praise For…
---
"Captivating, serpentine and affecting, Nicola Maye Goldberg's Nothing Can Hurt You subverts the tropes of the 'dead girl' genre in ways that impart its female characters with a dark majesty and mystery all their own." —Megan Abbott, author of GIVE ME YOUR HAND and YOU WILL KNOW ME

"Like a gothic Olive Kitteridge mixed with Gillian Flynn . . . [Nothing Can Hurt You] is masterful, a small-scale renovation of a seemingly exhausted genre." —Vogue

"Fascinating . . . the book is less about the murder itself than about its aftermath, the long tendrils of guilt, sadness, anger and confusion that stretch out from a single act, wrapping themselves around everyone they touch." —Sarah Lyall, The New York Times Book Review

"Fans of Gillian Flynn's Gone Girl will love Nicola Maye Goldberg's Nothing Can Hurt You. A terrifying and captivating story of a young college girl's murder in 1997, the unraveling web of lies and misinformation, and a serial killer's questionable role in it all will have you turning pages faster than ever." —CNN, "25 books that make for a perfect summer read"

"Haunting, powerful . . . Both immediate and expansive . . . Goldberg makes urgently clear that violence against women is not merely an insidious interloper in our society, but a part of its very foundation." —Refinery29, "Books You'll Want to Read This Summer"

"Goldberg's razor-sharp, intricately constructed tale, with its varied voices, will leave few readers unmoved. Fans of literary thrillers will relish this incisive account of murder and its aftermath." —Publishers Weekly

"Powerful . . . An intriguing look at the ways in which gender violence ripples through an entire community." —The Amazon Book Review, "10 Summer Thrillers You Won't Want to Miss"

"Nothing Can Hurt You is smart and human and true, simultaneously frightening and tender. Goldberg has written a gripping and tremendously searing book, one that will stay with me for a long time in ways I can't yet entirely imagine." —Leslie Jamison, author of THE RECOVERING and MAKE IT SCREAM, MAKE IT BURN

"Nothing Can Hurt You is a beautifully crafted novel with a terrifying story to tell. It's about a murder, and yes, there's a serial killer lurking, but the scariest thing here is the way that violence and violation shade their way into innocence and normality. This is one of those novels that makes you take a hard look at everything, starting with yourself. I couldn't put it down."" —Paul La Farge, author of LUMINOUS AIRPLANES and THE NIGHT OCEAN

"A daring, electric debut. As Nicola Goldberg unfolds the mysteries and meaning of a college girl's murder, she tells a riveting story of how revenge, danger, grief and love collide in the aftermath of violence. This novel feels wholly new--Goldberg elegantly destroys all the 'dead girl' tropes we've tired of, and in doing so reinvents the thriller for a new generation--her heroines, like her voice, are wise, darkly funny, and often startingly beautiful." —Rebecca Godfrey, author of UNDER THE BRIDGE and THE TORN SKIRT

"The pleasure of falling into Goldberg's taut thriller is in some ways a trap, a literary trompe l'oeil that momentarily screens us from what Nothing Can Hurt You is actually about. Investigating the relationships between women, voyeurism and violence, Goldberg elegantly excavates the ways in which crime simultaneously repulses and compels us, she reminds us why we are forever obsessed with looking at things that we are not supposed to see." —Alissa Bennett; writer, curator, and co-host of "The C-Word"

"Nicola Maye Goldberg articulates a new kind of darkness within the female psyche-one that makes this book pulse forth with danger and suspense. Between the unexpected turns and the sharp sentences, it's nearly impossible to stop reading Nothing Can Hurt You." —Chelsea Hodson, author of TONIGHT I'M SOMEONE ELSE

"Nicola Maye Goldberg's novel Nothing Can Hurt You takes a prismatic approach to a murder, and to the harsh reality of violence against women. Her vantage is clear-eyed and unsentimental, rich in both wit and compassion . . . This novel is timely, provocative, and deeply resonant." —Mary Caponegro, author of ALL FALL DOWN

"A book that reads like music. Nothing Can Hurt You is an intoxicating, lyrical, and honest journey into the traumatic murder of a young woman and its reverberating anguish. Nicola Maye Goldberg is a startling talent, inhabiting different voices and characters to create a reading experience both compulsive and transformative. I could not stop reading this book, and was haunted by it long after I finished." —Allie Rowbottom, author of JELL-O GIRLS

"Creepy and compelling, Nothing Can Hurt You examines the many ways that murder produces lasting pain, lingering grief and permanent loss, disclosed in the stories of the wounded. With literary flair—and authorial vision that transcends the banality of lesser crime fiction—Goldberg draws on two real-life crimes to construct this troubling but touching novel." - Richmond Times Dispatch

"A haunting, explosive tale, it will keep you turning the pages until the very end." - Spy
We appreciate your continued support!
If you would like to make a donation to help us through CLICK HERE.