Unprepared: America in the Time of Coronavirus (Hardcover)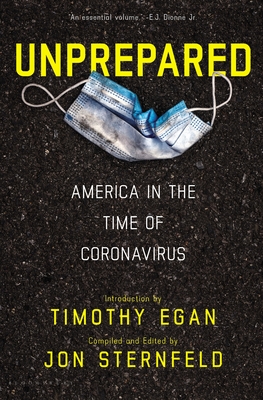 Description
---
"An essential volume." -E. J. Dionne, Jr. * "A damning portrait" -Publishers Weekly

With an introduction by Pulitzer Prize-winner Timothy Egan, the riveting, eye-opening first-draft history of the Covid-19 pandemic.

Unprepared is the sweeping history of the Covid-19 pandemic-a raw, primary-source accounting of the epoch-­defining event: a virus that first appeared in China in late 2019 and spread rapidly across the globe, killing hundreds of thousands, devastating economies, and changing the modern world forever. A day-by-day chronicle of the response to Covid-19 as it attacked, Unprepared gathers a range of public statements from President Trump and his administration, elected officials such as New York Governor Andrew Cuomo to Atlanta Mayor Keisha Lance Bottoms, leading journalists and scientists, and organizations from National Nurses United to the United Food and Commercial Workers union. A haunting portrait of the world scrambling for answers while the number of cases rose alongside the death toll, the book reveals not only our strengths as a people, but also the fault lines and dysfunction that plague our nation in the new millennium.

Unprepared is an illuminating artifact for today and for future generations, an astonishing document of history being made, and a multifaceted narrative that drops the reader directly into the real-time experience of confusion, drama, and fear that defines the outbreak of Covid-19.
About the Author
---
Jon Sternfeld is a former editor and the co-author of Crisis Point, with Sen. Tom Daschle and Sen. Trent Lott; A Stone of Hope, with Jim St. Germain; and A Forever Family with Rob Scheer, among other non-fiction books. He lives in New York.

Timothy Egan is a Pulitzer Prize-winning reporter and the author of nine books, most recently The Immortal Irishman, a New York Times bestseller. His book on the Dust Bowl, The Worst Hard Time, won a National Book Award for nonfiction and was named a New York Times Notable Book of the Year, a Washington State Book Award winner, and a Book Sense Book of the Year Honor Book. He writes a weekly opinion column for The New York Times and lives in Seattle.
Praise For…
---
"A riveting chronicle of confusion, alarm, deception and incompetence. Yet this day-by-day account also reminds us of the many moments of heroism and bravery in the face of a pandemic . . . Unprepared will call forth flashes of recognition, and like many good detective stories, it keeps you asking, 'Why didn't they see what was coming?'. An essential volume." —E. J. Dionne, Jr., author of CODE RED

"Unprepared is the way to step away from the everyday's-the-same pandemic stupor to see how prescient some were of what was to come and how those warnings were squandered. There are a few wise ones in this story, too many cowards and fools and then the rest of us, who have gradually, willingly fostered a political system that failed." —Bill Bishop, author of THE BIG SORT

"Never have our leaders' words been used to such poignant (and devastating) effect. Powerful and damning." —former Senate Majority Leader, Tom Daschle, author of CRISIS POINT

"A damning portrait . . . well-conceived and solidly executed, this is a vital record of an ongoing American crisis. " —Publishers Weekly

"Thorough and chilling." - New York Post

"In the era of overwhelming news and information its helpful to have a book bring together the story so far, from the moment the virus was discovered to the point in the middle of the year where a sixth of Americans had lost their jobs and over 100,000 had been killed. [Unprepared] highlights the perfect storm of this particular virus entering a country where 28 million people have no health insurance during the peak months of one of the most partisan elections in US history." - New York Journal of Books
We appreciate your continued support!
If you would like to make a donation to help us through CLICK HERE.