Frankie Comics (Paperback)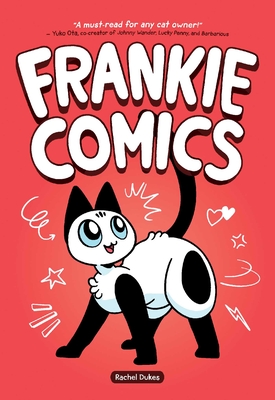 $12.99

Coming Soon - Available for Pre-Order Now
Description
---
"This ode to a beloved pet delightfully highlights the joys of living with a feline companion." —Kirkus

Fans of Johnny Wander, Pusheen, and Chi's Sweet Home will love this collection of the hit webcomic Frankie Comics by Rachel Dukes, now in paperback for the first time.

Now in paperback! When they discover a kitten asleep in their doorway, real life artist couple Rachel and Mike immediately fall prey to her charms. Soon, the new queen of their home is a blue point Siamese cat named Frankie. Stealing snacks, making mischief, and taking snuggling very seriously, Frankie proves again and again the wholesome joys of a feline companion. Hilarious indie comics darling Frankie Comics is collected in a new full-color paperback edition–purrfect for pet lovers everywhere.
About the Author
---
Rachel Dukes hails from San Diego, California. A graduate from The Center for Cartoon Studies, they works as a cartoonist and illustrator and is the creator of the cat-centric webcomic Frankie Comics. Their work has also appeared in several anthologies, including Beyond, Oath, Bottoms Up, As You Were, and Tim'rous Beastie. Clients include Brain Quest, College Humor, BOOM! Studios, Lion Forge Comics, and The Nib, among others. Rachel lives in Los Angeles. They are thankful for coffee, gingham, and readers like you.