Saving Joey: A True-life Story (Joey's Journey #1) (Hardcover)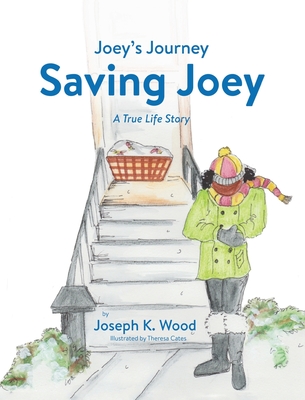 $25.99

Available in our Warehouse: Usually Ships in 3-8 Days
Description
---
Joey's Journey is a children's book series based on the true story of a foundling. The aim of this series is to motivate parents and young children to believe, to encourage adoption, inspire young people in the foster care system, or facilitate conversations about role of the family and our ability to transform lives.
Saving Joey (Book 1) is the story of a young, black, teenage girl who abandons her newborn. She wraps her baby in a blanket and places him in a basket. Leaving him on the streets of Chicago in below-freezing temperature, she waits for her baby to be found. Why? Fortunately, a man rescues the newborn, Joey, from the snow and ice-covered stairs one late evening as he was going to work. With neighbors and police involved, Joey is sure to have a future, after all. Find out what happened to young Joey.
Adopting Joey (Book 2): Joey finally finds a home. The story of a couple who decides to adopt a child. After years of marriage and no child, they go to adopt a girl from the orphanage. But when they see him, they want the boy named Joey. Find out why in Book 2 of Joey's Journey. Coming out soon.
ABOUT THE AUTHOR
Joseph K. Wood, a foundling. Abandoned as a newborn on the streets of Chicago, he would later be adopted from St. Vincent's Orphanage. Joseph became a teen leader in the tough neighborhood of Jeffery Manor. Since then he has grown and has held key leadership positions as a bank examiner with Illinois Commissioner of Banks, assistant director with the University of Chicago Booth School, head of recruitment at Walmart International and Deputy Secretary of State for the Arkansas Secretary of State Office. Joseph Wood is an elected official and currently serves in Arkansas as the Washington County Judge.
Wood is the author of two children's books, Saving Joey and Adopting Joey (Joey's Journey Series). He has written the forewords of two nonfiction books and he is currently writing his autobiography. He is also a 2017 Angels in Adoption honoree, recognized by the Congressional Coalition on Adoption (CCAI). The CCAI raises awareness about orphans and foster children in need of loving families.
Joseph lives in Fayetteville, Arkansas, with his wife June, daughters, and mother-in-law.
Go to the website, www.joeysjourneyseries.org, and sign up to be notified for upcoming releases and/or to book Joseph for a reading or lecture or to speak to your group, church, or business. Book reading and painting workshops are available for youths and adults with Joseph and Theresa Cates.
ABOUT THE ILLUSTRATOR
Theresa Cates is native Arkansan. She started painting as a youth and found it was a necessary expression she could share with others. Theresa Cates may be reached at www.majesticmotions.com.