Keto Soup Cookbook: Comforting Low-Carb Favorites (Paperback)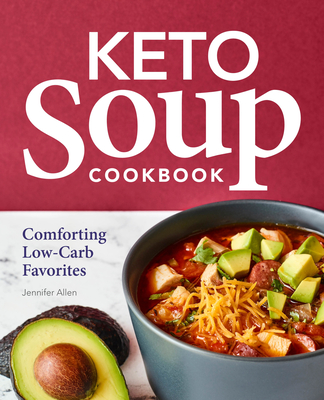 Description
---
Create keto soups that minimize carbs and maximize flavor
There's nothing more comforting than a good bowl of soup. Finding keto versions of your favorites can be challenging, but you can now put soups back on the menu with the best soup cookbook for keto. Discover delicious recipes with simple, ketogenic-friendly ingredients and easy instructions that range from homestyle classics to creative new flavor combos.
What sets this book apart from other soup cookbooks:
60 different soups—From creamy vegetable soups to hearty meat and noodle stews, this book has traditional recipes with a keto twist, and new favorites like Salmon and Zucchini Chowder and Butternut Squash Soup with Turmeric and Ginger.
A keto cooking guide—Learn the techniques for making any soup keto, and get the know-how you need to make the perfect bowl every time.
Souped-up sides—Complement your favorite recipes with delectable keto crackers and breads, including olive focaccia and jalapeno cheese bread.
Turn classic stews, chowders, and more into scrumptious, carb-reduced creations with the
Keto Soup Cookbook
.
About the Author
---
JENNIFER ALLEN is a retired professional chef with several successful businesses behind her. Living in Texas for more than 20 years has inspired her recipe creation, with lively Southwestern flavors popping up in many of her recipes. She continues to post her recipes at ketocookingwins.com.

Praise For…
---
"Keto Soup Cookbook will satisfy your every soup craving, and it will do it without the carbs! Many of the soups in this book are delicious and simple versions of soups that are usually low in carbs, like Thai-Inspired Shrimp Soup, which is enriched with coconut milk, or Cream of Mushroom Soup. Others are clever keto-ized versions of normally carb-heavy soups like Greek Chicken 'Rice' and Artichoke Soup or Homestyle Chicken and Dumpling Soup. Whether you follow a keto diet or not, this book offers plenty of satisfying soups that you'll want to add to your menu rotation. If you do follow a keto diet, this book is indispensable." —Robin Donovan, author of Ramen for Beginners and creator of AllWaysDelicious.com

"This cookbook includes EVERYTHING you need to know about making delicious homemade low-carb soup. From different bone broth recipes to how to stock your pantry and make substitutions with ingredients for the soup recipes, Jenn included so much value in this soup cookbook." —Annie Lampella, creator of KetoFocus

"Keto Soup Cookbook is an excellent compilation of deliciously approachable recipes that are so good you will be wondering how they can possibly fit into any diet. Jennifer manages to keep the recipes flavorful, quick, and easy while keeping things low carb. This book is a must-have for anyone on keto that loves soup." —Wendy Polisi, founder of WendyPolisi.com, Kicking-Carbs.com and author of The Easy Low-Carb Cookbook, Everything Vegetarian, and The Ultimate Keto Air Fryer Cookbook

"With a soup for every occasion, this keto soup cookbook is a kitchen staple. One can enjoy the wonderful world of soups while maintaining a healthy keto lifestyle. Highly recommend!" —Trina Krug, holistic nutritionist