Essential Soup Cookbook: Comforting, Hearty Favorites (Paperback)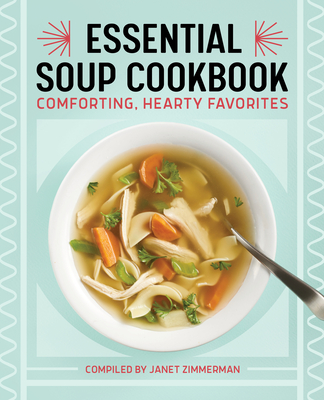 Description
---
Serve comfort by the bowlful with these timeless soup recipes
Award-winning food writer and cookbook author Janet Zimmerman loves soup. Her passion is contagious as she teaches you to master the versatile dish in this must-have soup cookbook. Janet will also help you make the most of your time in the kitchen as you learn to sauté, simmer, and season the perfect bowl.
From hearty Classic Beef Stew to delicate Miso Soup to fall favorite Roasted Butternut Squash Soup, most recipes can be made using standard ingredients already stocked in your pantry or refrigerator. With more than half the recipes featuring rich, detailed photography, you can practically smell the seasonings coming off the page.
Curated recipes—Discover 50 versatile and essential soups, from American classics to regional favorites to traditional recipes from around the globe.
Smart labels—Each recipe includes cooking times, serving sizes, and dietary considerations, along with easy-to-follow instructions.
Souper secrets—Uncover tips and tricks for making bisques, stews, chowders, and more—including stocking your pantry, ingredient variations, even troubleshooting for those cooks who like to experiment.
Find everything you need to become a master of soup with
The Essential Soup Cookbook
.
About the Author
---
JANET ZIMMERMAN is an award-winning food writer and former cooking teacher. She is the author or editor of 13 previous cookbooks, including the best-selling Instant Pot Obsession.
Praise For…
---
"Just say the word 'soup' and it instantly conjures up comfort in a bowl. Let Janet Zimmerman lead you down the path of making soothing soups. There aren't many other award-winning authors like Janet who have taught cooking and written several successful cookbooks. You have no excuse to not try a new soup this week. I guarantee—you won't be disappointed. Enjoy!" —Carroll Pellegrinelli, The Wall Street Journal bestselling author of Starter Sourdough: The Step-by-Step Guide to Sourdough Starters and The Easy Christmas Cookie Cookbook

"Janet Zimmerman's Essential Soup Cookbook gives home cooks everything they need to easily produce an array of soups that are sure to satisfy and nourish. The cookbook even includes a section on troubleshooting, for when something goes awry! A seasoned cookbook author, Zimmerman offers sound recipes along with variations and tips for maximum variety and success." —Carol Penn-Romine, award-winning food writer and chef at hungrypassport.com