The Big Book of Herbal Medicine: 300 Natural Remedies for Health and Wellness (Paperback)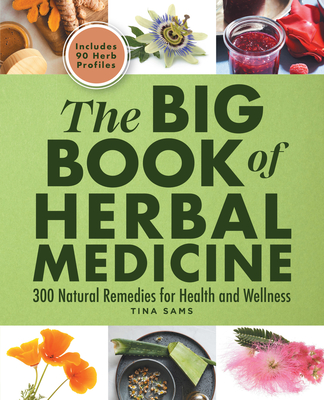 $23.99

Available in our Warehouse: Usually Ships in 3-8 Days
Description
---
Heal inside and out with the ultimate book of at-home herbal remedies

Better health and wellness can begin in your own backyard—literally. Discover the benefits of natural remedies with this complete guide to herbal medicine. You'll learn all about using the power of plants to heal yourself and your loved ones with homemade salves, balms, syrups, and teas—along with tips for growing and harvesting your own herbs!

This is your go-to medicinal herb book:

Start safe—Get a clear introduction to herbal medicine with information on how different herbs work, proper dosage, safe preparation, and even some of the fascinating history of herbs!

300 herbal recipes—Use this book of natural remedies in all aspects of your health, with sections dedicated to physical ailments, mental health and wellness, as well as skin and beauty.

From aloe to yarrow—Organize your home apothecary with easy-reference entries for 90 common herbs that each include a photo and a clear explanation of the herb's healing properties.

Just a sampling of what's inside—Brew Hibiscus Tea to help lower blood pressure, Bergamot Smelling Salt to relieve stress, a Hyssop Deep-Cleansing Mask to clear your pores, and so much more.

Unearth nature's healing remedies and improve your well-being with this natural medicine recipe book.
About the Author
---
Tina Sams has many years of experience running wholesale and retail herb businesses. She and her sister stumbled into owning an herb shop at a renaissance festival, and everything bloomed from there. In 2002, she began publishing The Essential Herbal magazine.
Praise For…
---
"The Big Book of Herbal Medicine gently walks the reader through the basics of herbal medicine and then introduces 90 favorite herbs and rounds out with many incredibly useful formulas for everyday health concerns. It is clear that Tina Sams writes from both a place of experience and from the heart. This book is for all herb lovers, beginner through advanced." —Susanna Reppert, 6th generation herbalist and owner of The Rosemary House

"With its beautiful illustrations, this guide is one you will turn to repeatedly. From the beginner just wanting to get away from pills and OTC remedies to the experienced herbalist (and gardener!), this book offers value for all of us. The herbal profiles give growing and usage information, and each contains a tip from someone sharing personal experience. But the fascination and value come in the formulas and remedies—for physical ailments, emotional and mental disease, and skincare. I knew a lot about the properties of many of the herbs profiled but had no idea how to incorporate them into my life. The simple, easy-to-follow directions make herbal healing approachable to anyone." —Marge Clark, "Vintage Aromatherapist", founder and president of Nature's Gift Aromatherapy

"There is no reason to feel intimidated by herbs when you have Tina Sams as a teacher. I have known Tina as an herbal educator for close to 20 years. In this book, she will guide you through the benefits of some common and not so common herbs while giving you easy instructions for numerous ways of using these herbs to benefit your health. Read this book if you are ready to take that step to bring some herbs and nature into your life." —Dr. Cindy Jones, biochemist, herbalist, author, and cosmetic formulator at Colorado Aromatics

"I wish this book existed when I began my herbal education. Tina Sams explains the foundations of herbal medicine in clear and simple terms, allowing them to be understood by anyone with an interest in reclaiming their health. Beginners to seasoned practitioners will enjoy the many remedies including in this wonderful book." —Jen Frey, HEARTransformation practitioner, mentor, and Earth advocate

"The Big Book of Herbal Medicine is aptly named and beautifully presented. Tina, a respected and beloved herbalist and expert in her field, uses lush and lyrical strokes to press a luscious, flower-filled invitation on every page. Tina draws the reader in with such a simple, comfortable style that one realizes immediately every word within these pages is both reliable and trustworthy. A deeper look reveals that The Big Book of Herbal Medicine is exceptionally well organized and a veritable treat for anyone interested in plants classified under the broad heading of herbal medicine." —Gail Faith Edwards, herbalist and author