Instant Vortex Air Fryer Cookbook for Beginners: 800 Easy and Healthy Air Fryer Oven Recipes for Smart People on a Budget (Paperback)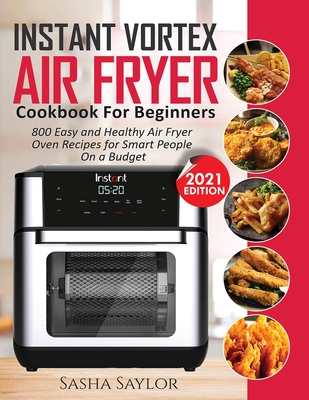 $20.24

Available in our Warehouse: Usually Ships in 3-8 Days
Description
---
The Instant Vortex Air Fryer Cookbook for Beginners is a comprehensive lifetime reference that offers the biggest selection of recipes plus fundamental information. A perfect gift for newlyweds, small families, or empty-nesters.
Do you want to master your Instant Vortex Air fryer?
Do you want to discover how to use your Instant Vortex Air Fryer to Its maximum potential?
Then this cookbook is absolutely for you This Cookbook consist of over 800 foolproof recipes made with common ingredients that deliver great flavor and stunning aromas. The recipes are quick and delicious for healthy living. You can Air Fry, Roast, Broil, Bake, Reheat, Dehydrate, and Rotisserie.
In this Cookbook Instant Vortex Air Fryer Cookbook you will Discover:
Over 800 Easy-to-Remember delicious recipes
Instant Vortex Air Fryer tips and tricks for beginners and advanced users
Big variety of modern recipes for any taste to surprise your family and friends
Unlock the full potential of your Air Fryer with this comprehensive cookbook.
In this book we have covered the following range of topics and recipes:
Breakfast Recipes
Fish & Seafood Recipes
Meat Recipes
Poultry Recipes
Appetizers and Snacks Recipes Dessert Recipes
Casseroles, Frittata and Quiche Recipes
Quick and Easy Everyday Favorites
There are so many reasons why you'll love this Keto Air Fryer Cookbook. Grab your copy now.