A Kid, His Guns, and His Badge: Antics, Antidotes and Tragedies of a Rural California Cop (Paperback)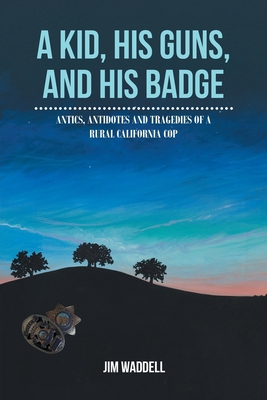 $24.95

Available in our Warehouse: Usually Ships in 3-8 Days
Description
---
Books about policemen are a dime a dozen. Most of the stories I've seen and read, whether they're fact or fiction, involve cops in the larger metropolitan areas like New York or Los Angeles. If you want to read about shootouts, car chases, and the things Hollywood writes into their scripts for movies or television, you can find those just about everywhere you look.
This is a story about a boy who grew up in a Mayberry setting in Central California in the rather innocent era of the 1950s. During the high school years, as with most youths in that age range, I was easily influenced by adventurous people and things. Blessings from above pointed me away from potential lawlessness in the direction of law and order.
The last two-thirds of the book covers a colorful career in rural law enforcement. It includes the bad, the good, and the ugly with a generous helping of humor sprinkled in along the way.
This is a true story based on my experiences as I recall them. A few of the names herein have been changed to protect the privacy of those individuals. Similarly, many of the book's quoted passages may not be in verbatim dialogue. Still, these or like conversations did take place and the tone of what was said are as true as memory will allow after a lapse of many years.
Paintings by Jamie Waddell-Humble