Tea Gardening for Beginners: Learn to Grow, Blend, and Brew Your Own Tea At Home (Paperback)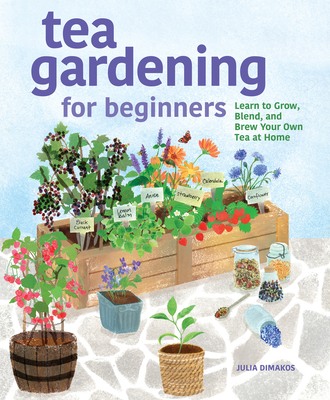 Description
---
A gardening book that's sure to be your cup of tea
What's more satisfying than brewing the perfect cup of tea? Brewing it from tea you grew yourself! Create your own tea garden with help from this beginner's guide. It walks you through every step of the process, from planning your garden plot to preparing delicious tea blends.
Know your teas—Become a true devotea as you explore different types of teas and tisanes, along with the best ways to blend and brew them.
Build your garden—Learn how to choose the best location for your garden, the essential tools you should have on hand, and the proper techniques for pruning and harvesting.
Dig into plant profiles—From lavender to lemongrass, read quick rundowns of 25 different plants, including their taste profiles, safety considerations, and preservation techniques.
Grow the skills you need to make your own tea blends for increased energy, relaxation, digestion, and just plain enjoyment with
Tea Gardening for Beginners
.
About the Author
---
JULIA DIMAKOS, otherwise known as The Gardening Girl, has been growing food for over 11 years. She's a regular speaker at horticultural societies and loves sharing her knowledge via her website (juliadimakos.com) and her YouTube channel (GardeningGirl). Julia lives on 25 acres in Ontario, Canada with her husband, two children, and cat.
Praise For…
---
"I love growing herbs, and after reading this book, I know how to use them for herbal tea. The "Refreshing Citrus" and "Energy" teas are new favorite recipes." —Angela Judd, Growing in the Garden

"Tea Gardening For Beginners is an excellent resource for all gardeners. As an avid herb gardener, this book opened my eyes to new and beneficial ways to utilize many of the varieties we grow. Looking forward to creating more blends!" —Misilla dela Llana, author of Four-Season Food Gardening and host of Learn To Grow on YouTube

"As a gardener who has grown my own plants for herbal teas, I've added some plants to my list based on what Julia Dimakos has concisely brewed up in Tea Gardening For Beginners. I look forward to sipping some interesting blends from this beautifully illustrated book." —Tara Nolan, author of Raised Bed Revolution