Celebrate You Box Set: The Ultimate Puberty and Positive-Mindset Books for Girls (Paperback)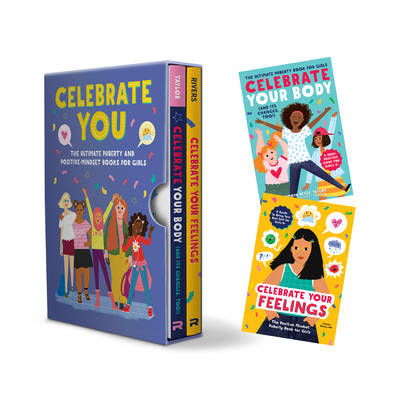 $25.95

Available in our Warehouse: Usually Ships in 3-8 Days
Description
---
A girl's guide to understanding and embracing her body and emotions during puberty
Growing up is exciting! It can also be confusing and frustrating. The
Celebrate You
box set is here to help. Discover practical advice and information for girls ages 8 to 12 to help them navigate and manage the physical changes and emotional challenges that happen during puberty. From bras to braces, new body hair, and beyond, these books empower young girls to embrace their bodies and their journey to adulthood.
Celebrate Your Body—This body-positive puberty book for girls explains what happens during puberty and offers friendly guidance and support for healthy eating and exercise.
Celebrate Your Feelings—Focused on developing a positive mindset, this book helps girls better understand their changing emotions, thoughts, and moods, and offers powerful ways to keep calm and feel good.
Help young girls understand the wonders and workings of their changing bodies, so they can approach puberty feeling educated and excited.
About the Author
---
ROCKRIDGE PRESS is a trusted voice in health and diet publishing a wide variety of lifestyle guides and cookbooks, including The New York Times best seller Paleo for Beginners, The Wicked Good Ketogenic Diet Cookbook, The Mediterranean Diet Plan and the Instant Pot Electric Pressure Cooker Cookbook. Our authors take pride in publishing thoughtful, well-researched books that help readers make positive lifestyle changes and build permanent healthy habits. Headquartered in Berkeley, California, Rockridge Press is situated in the heart of one of the healthiest regions in the world, the San Francisco Bay Area.
Praise For…
---
"The last thing I expected to do while reading this colorful and celebratory book for youth was cry, but as I went through each page I found myself with tears streaming down my face. Tears for my "past pre-teen self" who finally, after twenty years, felt seen... and tears for the next generation of amazing humans who will have this extraordinary guidebook (and Sonya) to hold their hand while explaining how their bodies are undeniably remarkable in every way." —Jes Baker, Body Positive Activist, author of Things No One Will Tell Fat Girls and Landwhale

"This book exemplifies the love and care that is necessary to help young people grow into healthy adults. As an educator, I am privy to unfortunate outcomes of miseducation when talking about puberty. Sonya has managed to create an experience of celebration through her thoughtful approach to delivering the facts about puberty in a way that can help girls feel proud of their bodies and the puberty experience." ―Patrick Smith Director of Education, Equity & Inclusion, Planned Parenthood Southeastern Pennsylvania

"Celebrate Your Feelings offers a positive reframing of emotions that young girls feel at the stage in life where vulnerability and self-doubt begin to appear. Lauren's language is supportive and uplifting, and the content she presents is the perfect blend of psychoeducation, coping practices, and self-affirmations. I am thrilled to have this book as a resource for my young clients!" ―Jackie Sargent, LPC, ATR-BC, LCPAT, Owner and Founder of Renew Art Therapy and Counseling