Wasteland: The Great War and the Origins of Modern Horror (Paperback)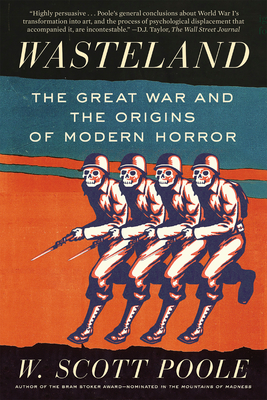 Staff Reviews
---
The period between WWI and WWII was full of fear, submission, and gratuitous excess. Unlike Poe's brooding supernatural horror, a new horror was born from the atrocities witnessed by French, British and German soldiers. Those who had a creative outlet, and means to exorcise what they'd witnessed began creating works of art and horror unlike anything before. WASTELAND tells us how artist Otto Dix, poet T.S. Eliot, short story writer HP Lovecraft, filmmakers Fritz Lang, F.W. Murnau, Robert Weine, and James Whale created a new kind of horror from the massive death and destruction of the Great War. From Caligari to the Wolfman, Poole lays out the foundations of modern horror cinema in this wonderfully informative book. I could not get enough!
— TJ
November 2018 Indie Next List
---
"Wasteland is as breathtaking as it is sensitive. The backdrop of bloodshed that is the Great War is almost its own character in Poole's writing. The early lives and war experiences of each man lend themselves so well to the dissection of the works produced by those who returned but never really came back. Poole's latest is dead on with sharp analysis and drinkable prose as he illustrates the hunger for horror, the almost compulsive need to relive and re-experience the trauma, and the irrevocable mark on the landscape of our psychology and pop culture."
— Bethany Kibblesmith, The Book Table, Oak Park, IL
Description
---
The Washington Post, "One of the Best Books to Take You Off the Beaten Track"
 
A historian and Bram Stoker Award nominee explores the birth of modern horror films and literature—tracing their origins back to the confluence of military history, technology, and art circa World War I

From Nosferatu to Frankenstein's monster, from Fritz Lang to James Whale, the touchstones of horror can all trace their roots to the bloodshed of the First World War. Bram Stoker Award nominee W. Scott Poole traces the confluence of military history, technology, and art in the wake of World War I to show how overwhelming carnage gave birth to a wholly new art form: modern horror films and literature.


"Poole's general conclusions about World War I's transformation into art, and the process of psychological displacement that accompanied it, are incontestable." —The Wall Street Journal
About the Author
---
W. Scott Poole is a professor of history at the College of Charleston who teaches and writes about horror and popular culture. His past books include the award–winning Monsters in America and the biography Vampira: Dark Goddess of Horror. He is a Bram Stoker Award nominee for his critically acclaimed biography of H. P. Lovecraft, In the Mountains of Madness.
Praise For…
---
Praise for Wasteland
"Wasteland, W. Scott Poole's exploration of some of the Great War's consequences for popular art, is fully attuned to the conflict's devastating psychological impact . . . Highly persuasive . . . Poole's general conclusions about World War I's transformation into art, and the process of psychological displacement that accompanied it, are incontestable."
—D.J. Taylor, The Wall Street Journal

"By approaching horror less like a film or literary genre and more as a mode of storytelling, Poole casts a wide net for his admittedly bitter history. Wasteland explores the postwar output of writers, poets, painters, and filmmakers alike, moving neatly between the works of artists from Franz Kafka to James Whale. He also draws direct connections between emerging horror icons and the medicine and machinery that allowed more than 40 million people to die during the war . . . A must–read for those chasing our own cultural demons, real or imagined."
—Matthew Monagle, The Austin Chronicle

"W. Scott Poole makes a compelling case that [the First World War] launched a great age of horror fiction . . . Poole has made an important contribution to cultural history. Wasteland reveals how horror stories can have even darker roots."
—Bryan Alexander, Reason

"Tackling the indescribable horrors of wartime is a delicate but necessary task, as Poole ventures in his latest title. Beginning with the Great War, the author exhaustively discusses the influences each era's war had on their directors, writers, actors and audiences of the horror genre, all while giving history lessons of the war in tow."
—Fangoria

"Poole writes with empathic insight . . . The arc of Wasteland spans wide across the arts . . . He writes fluidly and with sharp intent about the traumatized and boundary shattering anxieties shot through the work of the postwar surrealists, the war–inflected apocalyptic racist horror of Lovecraft, and what he sees as the shadow of war in the fiction of Kafka . . . His skilled knitting together of a broad range of genres and the spirit of unease permeating them all carries its own salient kind of moral horror."
—Chris Barsanti, Rain Taxi

"A sophisticated work of cultural history . . . The book's wide–ranging erudition, strong prose, and clear love and fascination with both history and horror . . . will appeal to a variety of readers."
—Jesse Kavadlo, PopMatters

"[A] fascinating new book about how [World War I] reshaped western culture . . . Poole is a very gifted writer."
—Gene Walz, Winnipeg Free Press

"Poole brings a scholar's eye to the horror found in literature, film and other artistic expressions ever since [World War I] . . . Wasteland will appeal to film and military buffs, horror fans, those interested in popular culture and those who seek a better understanding of the escalating violence of the last 100 years . . . A fascinating read."
—Bill Schwab, The Missourian

"Wasteland spans multiple nations, dozens of battles, and traces how warfare influenced artists of all crafts. Moving beyond prejudiced perceptions of high– and low–brow art, as well as the various designations used to pigeonhole artists, Poole reveals the connective tissue holding together the bones of modern monsters."
—Charleston City Paper

"A fascinating read."
—Vampires.com

"Thoroughly engrossing cultural study . . . Poole persuasively argues that the birth of horror as a genre is rooted in the unprecedented destruction and carnage of WWI . . . Will make it hard for readers who haven't considered the wartime context for horror's emergence to forget it."
—Publishers Weekly (starred review)

"Poole brings a scholar's eye and a devotee's heart to a study of the literary, film, and artistic incarnations of horror from the World War I period to today."
—Kirkus Reviews

"Elegantly written and cogently argued, Wasteland convincingly demonstrates the modern horror genre's origins in the great Dance of Death that was the First World War."
—David J. Skal, author of The Monster Show: A Cultural History of Horror

"W. Scott Poole combines smart readings of the horror classics with detailed knowledge of twentieth–century history, art, and literature to dig deep into the serious side of these popular entertainments. I thought I already knew the subject inside out, but Wasteland introduced me to fresh facts, new ideas, and surprising connections. This is cultural history of a very high order: intelligent, lively, and wonderfully readable."
—Christopher Bram, author of Gods and Monsters

"A book I never really thought I would read, as I don't care for horror; I flew through the pages. This is one of the most intriguing histories of war and how its influence has reached into every aspect of our lives to this day. I simply could not put this book down!"
—Shannon Alden, Literati Bookstore (Ann Arbor, MI)

"This is a book that might appear to be geared toward fans of horror, but anyone interested in history or cultural studies will find Poole's thorough analysis fascinating."
—Dave Lucey, Page 158 Books (Wake Forest, NC)