The Low Desert: Gangster Stories (Hardcover)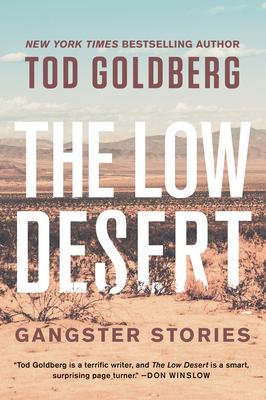 Staff Reviews
---
"This is an excellent collection - Goldberg's characters are twisted & complex, and he sure knows how to tell a great story."
— Suzanna
Description
---
Raymond Carver meets Elmore Leonard in this extraordinary collection of contemporary crime writing set in the critically acclaimed Gangsterland universe, a series called "gloriously original" by The New York Times Book Review.

With gimlet-eyed cool and razor-sharp wit, these spare, stylish stories from a master of modern crime fiction assemble a world of gangsters and con men, of do-gooders breaking bad and those caught in the crossfire. The uncle of an FBI agent spends his life as sheriff in different cities, living too close to the violent acts of men; a cocktail waitress moves through several desert towns trying to escape the unexplainable loss of an adopted daughter; a drug dealer with a penchant for karaoke meets a talkative lawyer and a silent clown in a Palm Springs bar.

Witty, brutal, and fast-paced, these stories expand upon the saga of Chicago hitman-turned-Vegas-rabbi Sal Cupertine--first introduced in Gangsterland and continued in Gangster Nation--while revealing how the line between good and bad is often a mirage.
About the Author
---
Tod Goldberg is the author of more than a dozen books, including Gangsterland, a finalist for the Hammett Prize; Gangster Nation; The House of Secrets, coauthored with Brad Meltzer; and Living Dead Girl, a finalist for the Los Angeles Times Book Prize. His writing has appeared in the Los Angeles Times, The Wall Street Journal, Los Angeles Review of Books, Las Vegas Weekly, and The Best American Essays, among other publications. He lives in Indio, California, where he directs the low-residency MFA in creative writing and writing for the performing arts at the University of California, Riverside.
Praise For…
---
A CrimeReads Most Anticipated Book of the Year 

"Tod Goldberg is a terrific writer, and The Low Desert is a smart, surprising page turner." —Don Winslow

"Engaging and supremely satisfying from the first page to the last." —Lawrence Block

"The wild west is alive in The Low Desert, a collection of stories as brutal and compelling as the landscape itself." —Brad Meltzer 

"A lot of what makes Tod Goldberg's lively, often entertainingly snarky story collection 'The Low Desert' so cohesive is its preferred destination for murder and despair: West Coast exurbia . . . 'The Low Desert' has plenty of tight, flinty, noir-y sentences . . . But his style, in the best stories here, is distinguished by a gallows humor featuring men who are just smart enough to work a grift but not bright enough to escape the ensuing trouble." —Mark Athitakis, Los Angeles Times

"The fast-paced fictional crime stories in Tod Goldberg's latest collection feature a cast of characters navigating mysterious, tragic and occasionally funny situations . . . These 12 stories, set in the same universe as Goldberg's 2014 novel, Gangsterland, are anchored in southern California's Inland Empire, and coalesce into a stirring portrait of the region." —Annabel Gutterman, Time

"Twelve spare, stylish contemporary crime stories that exemplify the craft." —Barbara VanDenburgh, USA TODAY

"He remains one of the most literary of working crime writers. Most of the stories in The Low Desert succeed by blending the thought-provoking nature of literary storytelling with the brisk action of pulp noir . . . There's something for everyone here, including Goldberg's trademark biting humor . . . This imagined desert underworld, home to racketeers and regret, buried bodies and criminal clowns, is an engrossing place to spend time. The thoughtful treatment of Las Vegas is particularly appreciated. One hopes Goldberg continues to explore these places he knows so well." —Geoff Schumacher, KNPR 

"Terrific . . . Pure fun, just prose bliss . . . Goldberg, who can rattle off one-liners like a stand-up, strikes a somber tone of loss throughout The Low Desert . . . These stories play genres with an expert's hand." —Richard Raynor, Alta

"Extraordinary . . . Have pity, Mr. Goldberg, on all the metamodern prose stylists who will try to follow in your footsteps and fail to achieve anything as complex and subtle as your loosely connected, elegantly written Gangster Stories . . . Each story in The Low Desert is razor-sharp on its own, but taken altogether, they make for a collection as searing as the hostile locale of the title. Mr. Goldberg plays with form to tell a new sort of gangster story, an examination of the lives organized crime touches and almost inevitably destroys. It's one of the best collections of crime stories I've ever read and without a doubt the best collection of gangster stories I've ever enjoyed." —Doreen Sheridan, Criminal Element

"By turn surreal, tragic, and darkly funny, the 12 stories in this exquisite collection from Goldberg hold up a mirror to the unique landscape of Southern California's Inland Empire . . . With a cast of low-rent mobsters, drifters, and hardscrabble working stiffs, Goldberg does a brilliant job of revealing the underbelly of the area, past and present. These spare slices of literary noir are the work of a master storyteller." —Publishers Weekly (starred review) 

"These are stories Elmore Leonard would love—not just because the razor-sharp Goldberg wastes no words in cutting to the heart of his stories, but also because he highlights the humanity and inner lives of even his most bent characters . . . A thoroughly enjoyable collection by a bona fide original." —Kirkus Reviews (starred review)

"Like Mario Puzo, Goldberg understands that the way to write about organized crime is to write about the people who live in that world. Yes, they are criminals, but most of them aren't villains. A sterling collection that showcases the author's gifts as a storyteller." —Booklist

"Tod Goldberg . . . has written a collection of stories that are keenly observed, wryly funny, and heart-wrenching in equal measure. If wisdom can be gleaned from taking a sharp look at the human impulse toward violence, then Tod Goldberg is one of this nation's sagest storytellers." —Attica Locke, author of Heaven, My Home
We appreciate your continued support!
If you would like to make a donation to help us through CLICK HERE.