Easy Street: A Story of Redemption from Myself (Paperback)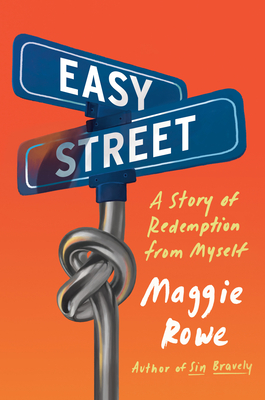 $18.65

Available in our Warehouse: Usually Ships in 3-8 Days
Description
---
A moving and offbeat story of unlikely friendship, the cost of ambition, and what happens when the things you've always run away from show up on your doorstep.

To most, Maggie Rowe appears to live on Easy Street. Her stylish home is in a fashionable Los Angeles neighborhood. She has a kind husband who makes her laugh. And after years of struggle, she is finally making a name for herself in Hollywood. But the agreeable, confident persona she presents to the world often feels like a deception to Maggie, who's long grappled with mental illness and feelings of inadequacy.

Enter Joanna Hergert, a neurodiverse middle-aged woman who lives with her elderly mother. Maggie's husband, Jim, introduces her to the pair after meeting them at a local charbroiled chicken franchise. Over the next several years, she forms a friendship with Joanna and her mother—despite Joanna's robust romantic fixation on Jim. What begins as a mild curiosity soon blooms into a complicated and intimate friendship that will challenge Maggie to confront her mental health issues and the trade-offs she's made to live life on her own terms.

Engrossing, moving, and wickedly funny, Easy Street is a midlife coming-of-age buddy comedy about embracing the strength of the families we fashion, finding peace with the choices we make, and, above all, learning to be compassionate with ourselves.
About the Author
---
MAGGIE ROWE has written for television shows including Arrested Development and Flaked. For film, she penned the screenplay, with Andersen Gabrych, Bright Day: An Exposé of Hollywood's Fastest Growing New Religion. Rowe is the author of Sin Bravely: A Memoir of Spiritual Disobedience, an NPR Best Book of the Year.
Praise For…
---
"There is a magic in Maggie Rowe that is able to reveal the unsung beauty, art, grace, and humor of mental illness* (*along with the struggly, super shitty parts of mental illness.) Read this book." —Sarah Silverman

"A romp of profoundly funny self-revelation. This isn't chick lit. It's simply lit." —Bill Maher

"Poignant and often hilarious." —People

"Despite its heavy subject matter, Easy Street is loaded with humor . . . Rowe's keen, wry observations about life in Los Angeles say a lot about wealth, privilege, and class in the city." —Liz Ohanesian, Southern California News Group

"Rowe's bluntness about her mental health struggles, combined with her account of her imperfect but enduring dedication to Sunny and Joanna, makes for a heartstring-tugging and charming story. Readers will find it hard to put this one down." —Publishers Weekly (starred review)

"Rowe is a cleareyed, disarmingly honest, wonderfully funny narrator of this trial by fire, which almost seems to be a 'test' of the sort the hero faces in a fable or a Bible story, ironically set in one of the most self-involved places on Earth. If you've ever gotten in over your head trying to be a good person, get ready to wince, laugh, and scream. A great read." —Kirkus Reviews (starred review)

"An unexpected story of friendship . . . This is a compelling exploration of the obligations and limits of privilege." —Booklist

"Maggie manages to make each phrase of Easy Street more dynamic and incisive than the next. Her unsparing display of what she considers her own weaknesses brings in and includes the reader like an intimate confidante." —Joey Soloway

"Maggie's memoir is both moving and hilarious. It teems with truly indelible comic scenes—many of which jack-knife into poignant moments of crushingly honest self-revelation. Which are also funny. It's a story you'll neither be able to stop reading nor easily forget. I love this book. I could blurb all day about it." —Mitchell Hurwitz

"Easy Street is like donning a VR helmet and finding yourself in the middle of this amazing, moving story in real time. Pride, guilt, kindness, anger and comedy happen in dizzying succession. Easy Street is not a cloying tale of virtue-signalling do-goodery. Maggie virtually waterboards herself to get at the uncomfortable truths beneath her acts of kindness, which are often hidden even from herself. Yet with every ruthless admission of masked resentment or malice, she exposes not just herself, but all of us; we're all presenting a curated self; we're all acting nice. But Maggie Rowe is one of the few people brave enough to go excavating so deeply. An amazing book." —Peter Baynham

"Easy Street is a witty and charming memoir that reads like a buddy comedy. With thrilling and unflinching honesty, Maggie Rowe tackles the heavy stuff: mental illness, envy, and what the haves owe the have-nots. A laugh-out-loud book that makes you want to do better. I couldn't put it down." —Maria Semple

"Similar to Truman Capote, Maggie Rowe writes like the most fascinating person at a dinner party who captivates the table with a strange, twisty, funny tale about the human condition. It's incredibly difficult to describe losing your mind and Rowe does it masterfully and unflinchingly. Her tenderness and insight make you root for everyone, especially her. (Spoiler alert: kindness and love light the darkness.)" —Nell Scovell, author of Just the Funny Parts: And a Few Hard Truths About Sneaking into the Hollywood Boys' Club

"Easy Street had me laughing out loud from the very first sentence. Maggie Rowe's captivating storytelling is not only a reflection on her personal life experiences, it is an enlightening exploration of the human mind. Shockingly honest, brilliantly funny, and imbued with deep wisdom and a touch of Buddhist philosophy, Easy Street is a masterful memoir." —Annaka Harris, New York Times bestselling author of Conscious: A Brief Guide to the Fundamental Mystery of the Mind