The God of All Comfort (Hardcover)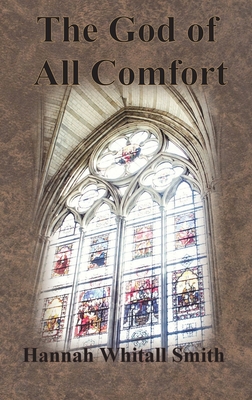 $18.16

Available in our Warehouse: Usually Ships in 3-8 Days
Description
---
Complete edition of The God of All Comfort by Hannah Whitall Smith. Helping focus on the futility of finding comfort outside of God, this book is good to read and reread often. First written in 1906, it is as great a benefit to us today as it was over 100 years ago.
"While we are looking at ourselves, we simply cannot "behold God." It is not that He hides Himself; He is always there in full view of all who look unto Him; but if we are looking in another direction, we cannot expect to see Him."
All students of thought should get this historic book. This edition is provided in a slim volume with full text at an affordable price.
TABLE OF CONTENTS
CHAPTER 1: WHY THIS BOOK HAS BEEN WRITTEN
CHAPTER 2: WHAT IS HIS NAME?
CHAPTER 3: THE GOD OF ALL COMFORT
CHAPTER 4: THE LORD OUR SHEPHERD
CHAPTER 5: HE SPAKE TO THEM OF THE FATHER
CHAPTER 6: JEHOVAH
CHAPTER 7: "THE LORD IS GOOD"
CHAPTER 8: THE LORD OUR DWELLING PLACE
CHAPTER 9: MUCH MORE VERSUS MUCH LESS
CHAPTER 10: SELF-EXAMINATION
CHAPTER 11: THINGS THAT CANNOT BE SHAKEN
CHAPTER 12: A WORD TO THE WAVERING ONES
CHAPTER 13: DISCOURAGEMENT
CHAPTER 14: THE SHOUT OF FAITH
CHAPTER 15: THANKSGIVING VERSUS COMPLAINING
CHAPTER 16: CONFORMED TO THE IMAGE OF CHRIST