Give Love and Receive the Kingdom: Essential People and Themes of English Spirituality (Hardcover)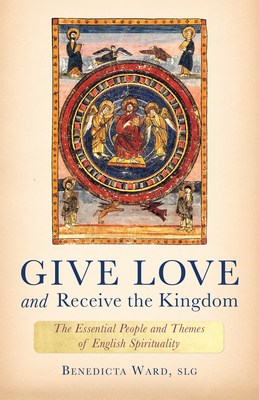 $27.49
This item is not currently available to order.
Description
---
From the greatest living expert on the history of English spirituality comes the most expansive collection ever published of her work

"Sister Benedicta is uniquely qualified to write on the beauties and subtleties of Anglo-Saxon writing about the Christian life. These wonderfully crafted pieces give an invaluable introduction to this world of thought and prayer and image." —Rowan Williams

From the spirituality of Cuthbert, to Bede and the Psalter, Anselm the monastic scholar, and the depths of Julian of Norwich, from twelfth century hermits, through medieval pilgrimage, and by illuminating seventeenth century preachers, this volume is Benedicta Ward's magnum opus. With a title drawn from the writings of St. Anselm—a beautiful summary of the Christian life—this book is designed to both inspire and educate.
About the Author
---
Benedicta Ward, SLG is a sister of the Community of Sisters of the Love of God and one of the world authorities on English spirituality and desert monasticism. She is Reader in the History of Christian Spirituality at the University of Oxford and an honorary lecturer at Harris Manchester College. Sr. Benedicta has written many books over a long career including The Sayings of the Desert Fathers, Harlots of the Desert, and The Venerable Bede. She lives in Oxford, England.
Praise For…
---
"Sister Benedicta Ward is one of the finest writers on the spiritual life. Her collection of the desert sayings is the classic text. Now she brings her heart and skills to the English tradition of spiritual practice. This has been described as her magnum opus. When public protest is so necessary in our time, it is equally necessary to be rooted in practices that deepen the heart." —Roy Howard, Presbyterian Outlook

"This is a dazzling collection, and worth working at. It reminds us of what we are in danger of losing, or might have lost already: the art of faith and prayer. For many, God is a concept, irrelevant and non-existent; "attention to the humanity of Jesus has dissolved into sentimentality"; thought and emotion are cut loose from faith seeking understanding. Ward offers us words from our own history which show us "devoted tears" of joy, rapture, and penitence that can "bring forth ours", a healing stream that runs from heart to heart." —Dr Martin Warner is the Bishop of Chichester, review published in The Church Times (UK)

"Sr. Benedicta brings long-ago figures vividly to life—rendering them brilliant as the colors of the Lindisfarne Gospels. This is her art. What she once did for the Fathers, Mothers and Harlots of the desert, she has now done for the great saints of the Isles. To read these pages is to know Britain's holy men and women as more than points on a timeline, more than feasts on a calendar. They are our close companions on pilgrimage." —Mike Aquilina, EWTN host and author of The Witness of Early Christian Women and The Fathers of the Church

"The scope of Sr Benedicta's scholarship is truly remarkable. I have benefited hugely over many years from her writings on early desert asceticism. I am also grateful for her personal help with my medieval research. I thoroughly recommend this new book." —Philip Sheldrake, St Edmunds College, University of Cambridge; author of Spirituality: A Brief History and other books

"Whether on the Desert Christians (and harlots!) or the English Church, whether her own prose or her exacting translations, Sr. Benedicta Ward's work is always informed by the incisive intellect of a scholar and the wise soul of a monastic. Her astute evaluations are replete with spiritual insight. The Christ whose life in His Church her distinguished career has illuminated 'Easters in her,' and her elegant and prayerful prose gives us glimpses of what she so clearly sees. We owe Paraclete Press a great debt for making readily available some of her most important essays." —Bonnie Thurston, scholar, author, poet