Breathe: A Child's Guide to Ascension, Pentecost, and the Growing Time (Paperback)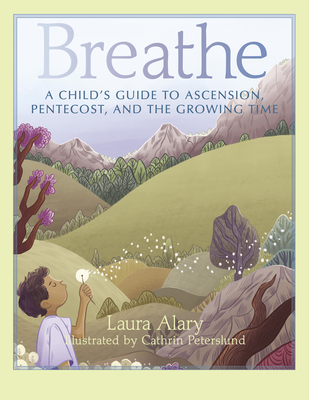 $16.99

Available in our Warehouse: Usually Ships in 3-8 Days
Description
---
At the heart of Breathe lies a puzzle: How can Jesus go away, yet promise to be with us always?  Can we trust someone who comes and goes so mysteriously?
In the style of Make Room: A Child's Guide to Lent and Easter and Look! A Child's Guide to Advent and Christmas, Breathe: A Child's Guide to Ascension, Pentecost and the Growing Time explores the comings and goings of Jesus and the Spirit through retellings of the biblical stories of Ascension and Pentecost, interwoven with contemporary reflections from the point of view of a child.
Moving beyond long ago and far away events, Breathe guides children to wonder about and watch for the presence and work of the Spirit here and now, in practices of prayer and mindfulness, and through acts of justice, generosity, and the sweet taste of kindness.
In the end, the young narrator arrives as a satisfactory solution to the puzzle: the Spirit that was in Jesus is in us too. We are his body now, his way of being in the world. Whenever we choose the way of love, Jesus is there. Always.
About the Author
---
Laura Alary is a writer, storyteller, and religious educator. When she was a little girl she used to make her own books out of manila paper, crayons, and mucilage. These early efforts at writing eventually gave way to academic papers and theses, as she earned degrees in Classics (B.A., Dalhousie), Theology (M.Div., Knox College, University of Toronto) and New Testament (Ph.D., University of St. Michael's College). More recently, Laura has focused on a new type of education—raising three creative and curious children. She leads workshops on everything from storytelling to biblical interpretation, teaches the occasional university course, and works with children at a local congregation. She has also returned to her early love of creating her own books, including Is That Story True? and Mira and the Big Story. Laura lives in Toronto, Canada.

​Cathrin Peterslund is an illustrator, visual artist, and cartoonist. She studied at The Animation Workshop (Denmark), and graduated with a BA in Graphic Storytelling in 2017. She now works as a freelance illustrator in Copenhagen.
Praise For…
---
"Breathe invites children—and the grownups who read to them—to feel the wonder of the Christian stories that unfold after Easter. Through warm and wonderful illustrations and prose that is close to poetry, Laura Alary invites children not just to imagine the stories back then, but to experience what those stories can mean to us now." —Brian D. McLaren, author of Faith After Doubt

"Breathe imparts new life into our consciousness of God's presence in the world. It clarifies as much as it intoxicates, intuitively guiding readers of all ages through Pentecost to reveal God in our lives."
—Grace Ji-Sun Kim, Professor of Theology, Earlham School of Religion 

"In gentle words that seem to float, Breathe reassures, encourages, and inspires even the youngest followers of Jesus, helping them understand how the Spirit is at work in and through us all." —Wendy Claire Barrie, author of Faith at Home

"Breathe is an invitation to wonder, delight, and celebration and incorporates breathtaking illustrations along with masterful reflection and prose. True to Alary's style and other work, Breathe is a must-have for every parent and Christian Educator I know." —Traci Smith, author of Faithful Families

"Laura Alary's Bible stories are some of the only ones that I entirely trust my children with. This Pentecost story is like none other I've encountered, brilliant, paced like an autumn wind with moments of stillness to sit with breath and moments that sweep us up in that holy wind that still animates everything that is good and of God. This is a beautiful book that I look forward to having on my children's bedside table." —Daneen Akers, author of Holy Troublemakers and Unconventional Saints

"Breathe takes all who read it on a journey with the Spirit. The biblical stories of this time in the liturgical year flow like the air currents into children's experience in the church and world. This book is for all who need reassurance that God is with them in their daily lives—good times and difficult times." —Dr. Kathy Dawson Benton, Family Associate Professor of Christian Education, Columbia Theological Seminary

"It can be hard to talk about the things we don't fully understand; things like why Jesus returned to heaven, what happened at Pentecost, and how the Holy Spirit works. Breathe: A Child's Guide to Ascension, Pentecost, and the Growing Time provides those who tell them with language to tell them well; using words which invite wonder and examples which help listeners connect God's story with their own. As someone who regularly engages in ministry with children and their families, I love that I can draw from it, reading small sections as a way to savor the story of Pentecost and dwell in it together." —Karen Deboer, Author of Homegrown Handbook for Christian Parenting

"Anyone who is interested in nurturing a child's spirituality will inevitably be drawn to this lovely new title from the pen of Laura Alary. One only needs to read the opening words to know that Breathe: A Child's Guide to Ascension, Pentecost, and the Growing Time will cause the reader or listener to wonder about the mystery and meaning of this liturgical season. 
The day of Pentecost is coming.
The church is changing color.
The white and gold of Easter
will soon burst into flaming red,
then cool to green.
In this poetic, thoughtful text, Laura deftly interweaves biblical stories with subtle invitations for readers to consider how the gentle wind of the Holy Spirit might be at work in their lives today. Although much of this book revolves around 'Ordinary Time,' there is nothing ordinary about the text. It is imaginative, insightful and thoroughly inspirational- a must for every parent, pastor and children's minister." —Glenys Nellist, author of the Love Letters  from God, Snuggle Time and Little Mole series

"Breathe by Laura Alary is a winsome, nuanced, and beautiful book. Though it is intended for children, we adults, long in the tooth, should read it, too. It is fresh, even frolicking—qualities of life that prove elusive, but not inevitably so. Laura Alary rekindles grace and makes us want to dance with the people who populate her latest book. A great gift, a good read, for both old and young." —Jack Levison, author of 40 Days with the Holy Spirit, Fresh Air and Holy Spirit, I Pray