7 Divine Mysteries: Supernatural Secrets to Unlimited Abundance (Paperback)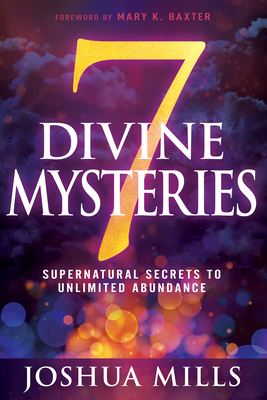 $16.99

Available in our Warehouse: Usually Ships in 3-8 Days
Description
---
God's abundance is waiting for you. Are you ready to receive it? "This is the season of the restoration of all things. Let it begin in your life with Joshua Mills's heavenly revelation in his new book, 7 Divine Mysteries."
--Sid Roth Today, the Spirit is looking for those who are willing to stand up and walk boldly into the bounty of God's promises. We must progress toward the blessings of abundance He has shown us in the glory realms. This is not just for our benefit, but so that we might become divine connections of bountiful provision for others as well. God has proclaimed victories, blessings, and, yes, miracles in abundance. In 7 Divine Mysteries: Supernatural Secrets to Unlimited Abundance by Joshua Mills, you will find out how to connect to the manifest promises of God and thrive as you stretch your faith, work the Word, and allow the Spirit to lead you into overflowing abundance for spirit, soul, and body. God is opening untapped provision for restoration, healing, deliverance, relationships, finances, creative ideas, and more. The seven mysteries include: Divine Mystery 1: Heavenly Vision Is a Pathway for Provision
Divine Mystery 2: What You Say Creates a Way
Divine Mystery 3: The Word You Work Will Work for You
Divine Mystery 4: What You Sow, You Will Grow
Divine Mystery 5: Generous Believing Produces Generous Receiving
Divine Mystery 6: Angel Power Makes Abundance Shower
Divine Mystery 7: Generational Investing Brings Generational Blessing Rise up and choose to generously receive the manifestation of every promise God has given you Joshua Mills and his wife, Janet, have proven these seven scriptural principles in their own lives, and this book is filled with faith-building testimonies, practical keys, and activations for readers to apply directly to their own circumstances.

About the Author
---
Joshua Mills is an internationally recognized, ordained minister of the gospel, as well as a recording artist and keynote conference speaker. He is also the author of more than twenty books and training manuals. His books with Whitaker House include 7 Divine Mysteries, Power Portals, Moving in Glory Realms, and Seeing Angels, all with corresponding study guides and audiobooks. Joshua is well known for the supernatural atmosphere that he carries and for his unique insights into the glory realm and prophetic sound. Wherever Joshua ministers, the Word of God is confirmed by miraculous signs and wonders that testify of Jesus Christ. He is regarded as a spiritual forerunner in the body of Christ. For many years, he has helped people discover the life-shifting truths of salvation, healing, and deliverance for spirit, soul, and body. Joshua and his wife, Janet, cofounded International Glory Ministries and have ministered in over seventy-five nations on six continents. Featured together in several film documentaries and print articles, they have ministered to millions around the world through radio, television, and their weekly webcast, Glory Bible Study. They live with their three children, Lincoln, Liberty, and Legacy, and their puppy, Buttercup.