Slough House (Hardcover)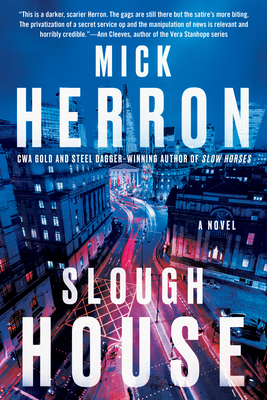 $27.95
Coming Soon - Available for Pre-Order Now
Other Books in Series
This is book number 7 in the Slough House series.
Description
---
In his best and most ambitious novel yet, Mick Herron, "the le Carré of the future" (BBC), offers an unsparing look at the corrupt web of media, global finance, spycraft, and politics that power our modern world.

At Slough House—MI5's London depository for demoted spies—Brexit has taken a toll. The "slow horses" have been pushed further into the cold, Slough House has been erased from official records, and its members are dying in unusual circumstances, at an unusual clip. No wonder Jackson Lamb's crew is feeling paranoid. But are they actually targets?  

With a new populist movement taking hold of London's streets and the old order ensuring that everything's for sale to the highest bidder, the world's a dangerous place for those deemed surplus. Jackson Lamb and the slow horses are in a fight for their lives as they navigate dizzying layers of lies, power, and death.
About the Author
---
Mick Herron is a British novelist and short story writer who was born in Newcastle and studied English at Oxford. He is the author of the Slough House espionage series, four Oxford mysteries, and several standalone novels. His work has won the CWA Gold Dagger for Best Crime Novel, the Steel Dagger for Best Thriller, and the Ellery Queen Readers Award, and been nominated for the Macavity, Barry, Shamus, and Theakstons Novel of the Year Awards. He currently lives in Oxford and writes full-time.
Praise For…
---
Praise for Slough House

"Once again, Herron captures the dramedy of the battle between spies and bureaucrats better than anyone else on either side."
—Kirkus Reviews

"Revenge, betrayal, and gallows humor abound in Slough House, the seventh installment of Mick Herron's ripping good series of spy novels. This time out, MI5's disgraced spies are being hunted by Russian assassins and there's no one they can trust to help them. Herron's deft plotting and taut writing make his books the best spy thrillers being published today. Make room on your shelf beside LeCarre and Deighton. His books are fantastic, and Slough House is no exception."
—David Enyeart, Next Chapter Booksellers (St. Paul, MN)

Praise for Joe Country

The Guardian Best Crime Novels of 2019
The Spectator Best Books of 2019

"Suspense, spycraft, dry wit and vulgar humor are all well-deployed in this satisfying work by Mr. Herron, whose style can accommodate everything from a tough action scene to a lyrical elegy."
—Tom Nolan, The Wall Street Journal

"Herron writes squeakingly well-plotted spy thrillers. More than that, he composes—at the rate of a pulpist—the kind of efficient, darkly witty, tipped-with-imagery sentences that feel purpose-built to perforate my private daze of illiteracy. More than that, he's a world-bringer, the creator of a still-growing fictional universe with its own gravity, lingo, and surface tension."
—The Atlantic 

"Herron blends character, place and espionage into a riveting melange that I've only encountered in the best of John le Carré or Len Deighton . . . Read one and you're hooked for the whole series."
—The Globe and Mail

"Herron's morbidly witty backdrop hosts incisive storytelling with a rich mix of engaging characters."
—Financial Times

Praise for the Slough House novels

"Terrific spy novel . . . Sublime dialogue, frictionless plotting."
—Ian Rankin

"[Herron] really is funny and his cynicism is belied, here and there, by flashes of the mingled tenderness and anger that seem to define Britain's post-Brexit self-reflections."
—Charles Finch, USA Today

"Scathingly funny."
—Newsweek

"Irony and black humor abound."
—Newsday

"[Herron is the] le Carré of the future . . . The characters are brilliant."
—Patrick Neale on BBC's The Oxford Book Club
 
"Heroic struggles, less-heroic failures and a shoot-out-cum-heist . . . with no let-up in the page turning throughout."
—Esquire

"Slough House, in this winning series, is where incompetent or disgraced British spies spend their days on meaningless busywork. That is, unless they stumble into genuine espionage. Herron is a subtle stylist, and he strikes a perfect balance of big-hearted humor and thrilling spy stuff."
—The Seattle Times

"Hilarious and suspenseful . . . Sharper than most espionage fiction being written today and manages to stay uncannily contemporary."
—St. Louis Post-Dispatch

We appreciate your continued support!
If you would like to make a donation to help us through CLICK HERE.