Rock of Ages (A Junior Bender Mystery #8) (Paperback)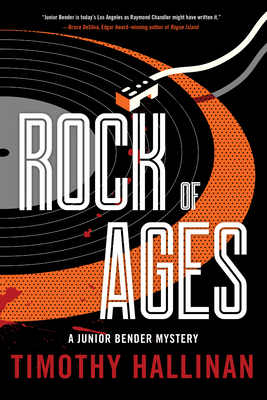 Other Books in Series
This is book number 8 in the A Junior Bender Mystery series.
Staff Reviews
---
I love Junior Bender and I love Timothy Hallinan for creating him. This outing has Junior doing a "favor" for the most powerful gangster in LA. Not something he can turn down. On top of that it is on a rare long weekend that he has his daughter Rina staying with him. Lots of complications, lots of laughs. Loved it!
— Lisa
Description
---
Junior Bender, Los Angeles burglar and off-the-books detective to the felonious, is reminded that rock and roll will never die (no matter how fervently he wishes some of it would) when Hollywood's most dangerous geriatric mobster, Irwin Dressler, retains Junior's investigative services to solve a rather unharmonious problem.

Four of Dressler's old gangster colleagues have put together a national tour of once-popular rock bands they own a piece of: three nights of concerts by guys (and a few gals) who were big shots back in the 1960s and 1970s, and who are now hoping for one more gasp of glory with this nostalgia exhibition. The Rock of Ages tour has proved itself to be anything but a love fest: plenty of the bandmates have been feuding for forty years, and—perhaps unsurprisingly—drugs and bad behavior have created health, wellness, and legal problems for the musicians and managers. Plus there have been two near-fatal accidents that might have been attempted murders. 

But they're not what Irwin Dressler is concerned about. It's that someone—one of his own colleagues—is using the tour as a front to steal Dressler's money. And that simply cannot be allowed. 

Now the tour has pulled into LA, and Junior has one weekend to figure out who's to blame—a weekend that begins with his tires being slashed, threatening notes left on his car, and a theatrical backdrop falling on a drummer during the truly terrible first set of the first concert. To make things worse, Junior is saddled for the weekend with his teenage daughter, Rina, who lately has been much, much too interested in how her father earns his living. Can Junior recover Dressler's money, prevent a murder, talk his daughter out of pursuing a life of crime, and somehow survive all that bad music?
About the Author
---
Timothy Hallinan has been nominated for the Edgar, Nero, Shamus, Macavity, and Silver Dagger awards. He is the author of twenty-two widely praised books, including the Poke Rafferty Bangkok thrillers, most recently Street Music and the Junior Bender Hollywood burglar mysteries, including Herbie's Game, winner of the Lefty Award for Best Humorous Mystery. After years of working in the television and music industries, he now writes full-time. He lives in California and Thailand.
Praise For…
---
Praise for Rock of Ages

"Rock of Ages, with its breezy pace, nonstop banter and Chandleresque wordplay—'lips sharp enough to turn a kiss into a paper cut'—proceeds with flair toward a climax that proves unexpectedly moving."
—Tom Nolan, The Wall Street Journal

"[A] wildly entertaining Los Angeles-set caper . . . [Hallinan's] insider familiarity with the LA music scene shines through in Rock of Ages."
—BookPage, Starred Review

"Outstanding . . . Hallinan's sharp-edged prose (a character has 'lips sharp enough to turn a kiss into a paper cut') and facility for making even assassins likable enhance a complex puzzle. Both newcomers and fans will be delighted."
—Publishers Weekly, Starred Review

"[A] toe-tappingly entertaining comic mystery . . . The one-liners come as if fired from a gatling gun in this gem of a novel that will leave Junior's fans wishing they'd read it a whole lot slower."
—Booklist, Starred Review

"[A] rollicking crime and caper novel . . . Hallinan's special touch is the family love (with complications) that drives each of his protagonists."
—Kingdom Books

"The names of the bands are almost worth the price of admission alone, and this behind-the-scenes look at rock and roll is equal parts illuminating and hilarious . . . A first-rate plot and an excellent cast of characters."
—Kittling Books

"This excellent eighth in the series is great fun."
—Stop, You're Killing Me!

Praise for the Junior Bender Mysteries

"Junior Bender is today's Los Angeles as Raymond Chandler might have written it. Tim [Hallinan] is a master at tossing out the kind of hard-boiled lines that I wish I thought of first."
—Bruce DeSilva, Macavity & Edgar Award–winning author of Rogue Island

"Junior Bender—a crook with a heart of gold—is one of Hallinan's most appealing heroes, rich with invention, and brimming with classic wit. I can't recommend it highly enough."
—Shadoe Stevens, Late Late Show with Craig Ferguson

"If Carl Hiaasen and Donald Westlake had a literary love child, he would be Timothy Hallinan. The Edgar nominee's laugh-out-loud new crime series featuring Hollywood burglar-turned-private eye Junior Bender has breakout written all over it . . . A must-read."
—Julia Spencer-Fleming, New York Times bestselling author of One Was a Soldier

"Timothy Hallinan' The Fame Thief has everything I've come to expect in a Hallinan novel: indelible, complex characters, fantastic plot, and moments of hold-your-breath suspense."
—Charlaine Harris, author of the New York Times bestselling Sookie Stackhouse series

"Could not stop laughing. Tim Hallinan is sharp as a blade, has a wicked eye for human nature and keeps the reader guessing and rooting for Junior Bender all the way."
—Helen Simonson, New York Times bestselling author of Major Pettigrew's Last Stand

"Run right out and get this book. It's just fabulous."
—NPR, Morning Edition

"Burglar Junior Bender may just be our favorite literary P.I."
—Entertainment Weekly