Demystifying Fundraising Funnels: A Digital Marketing Blueprint to Fund Your Non-Profit (Hardcover)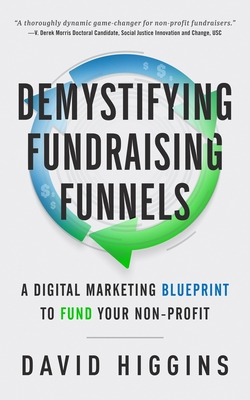 $25.00
This item is not currently available to order.
Description
---
"Every non-profit organization should follow the principles in this book, especially in today's current climate where fundraising has become trickier. The book shows you step-by-step how to successfully run online fundraising campaigns so you can grow your organization faster and help more people."
--Corinna Essa, Author of Money on Demand and ReachThe legacy methods of fundraising have either exhausted their efficacy or undergone total extinction. With a brave new economic landscape near at hand, nonprofits are faced with one last ultimatum; level up or evaporate forever The prior landscape of fundraising has been razed by pandemic, political, and cultural shifts. As a result, nonprofits must adapt their approach to suit the modern paradigm so that they may flourish like never before. Demystifying Fundraising Funnels presents nonprofits with ideas, strategy, and, most importantly, hope.Demystifying Fundraising Funnels is not merely a book that laments the new e-commerce world's challenges to nonprofits. Instead, it is the paragon guide for tactics, tools, and real-world answers that nonprofits can enact to thrive in our new online economy. With a honed-in online strategy, nonprofits can unlock a literal world of new possibilities.You'll be ignited with inspiration from the possibilities as well as empowered with the confidence of a step-by-step approach that brings real, rewarding growth to your team, volunteers, and nonprofit as a whole.Demystifying Fundraising Funnels gives you the legs to run headlong toward the opportunities of dynamic online fundraising and dive deep into relationships with thousands of undiscovered donor connections.Have you been seeking a blueprint that doesn't just make a lasting impact on your organization's financial picture but also interlaces your team as one powerful, unified mind? Then you're poised and ready to have your fundraising funnels demystified.