Thriving with ADHD Workbook for Kids: 60 Fun Activities to Help Children Self-Regulate, Focus, and Succeed (Health and Wellness Workbooks for Kids) (Paperback)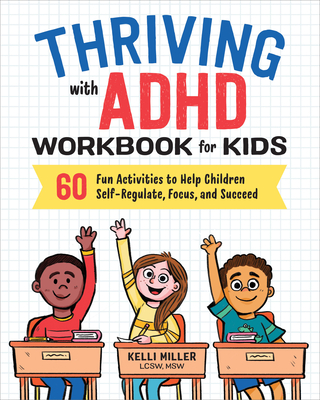 Description
---
Help your child understand and manage their ADHD with engaging activities for kids ages 7 to 12
"I always advise starting treatment with behavioral interventions. Some parents struggle to find the right book to help them develop a behavioral parenting plan, but now they have the perfect book! —Dr. Keith Seibert, pediatrician
With the right tools, kids can learn to think positively about their ADHD and see it as a special asset.
Thriving with ADHD
is filled with easy exercises to help your child with the many facets of ADHD, from self-control and organization to getting tasks done and making friends—so they can flourish at home, school, and beyond.
Written by a licensed clinical social worker and psychotherapist, this workbook offers a strength-based approach to help your child gain a better understanding of themselves, their ADHD, and the simple things they can do to feel more confident and in control.
This ADHD workbook for kids includes:
An overview of ADHD—Teach your child about common symptoms, different ADHD types, and how ADHD can be an advantage.
Skill-building exercises—Establish key executive functioning skills, like dealing with anger and frustration, staying focused, controlling impulses, and communicating effectively.
Action-oriented learning—Help kids learn to reframe the way they think about ADHD with fun lessons for creating a morning routine, making a homework chart, expressing themselves when they're upset, and more.
Show your child how to harness their own unique talents and live life to the fullest with their ADHD—this practical workbook will help guide the way.
About the Author
---
Kelli Miller, LCSW, MSW is a psychotherapist, radio host, and author. Kelli is the co-host of the weekly psychology radio show The Dr. Debra and Therapist Kelli Show on LA Talk Radio (www.latalkradio.com) and was the advice columnist to the largest listserv in the United States ("Ask Kelli"). Kelli has been quoted on CBS local news, Now It's Your Time Mom!, and The Georgetown Current. She graduated from the University of Pennsylvania with her Masters in Social Work in 2004. She currently works with individuals, couples, and families in her private practice as well as running groups at an alcohol and drug rehabilitation center.
Praise For…
---
"Filled with information, activities, skills, and insights for kids, this book puts some fun into coping with the struggles that accompany ADHD. I will be recommending this book to parents and kids who are trying to overcome the obstacles of ADHD."—Dr. Robert Leahy, Author of The Worry Cure

"Kids with ADHD, along with their parents, teachers, and counselors, will find much to like and learn from in this valuable (and fun!) book filled with practical information, games, and exercises. Among its best features: accessible tools for self-understanding, helping kids to see themselves in a new, positive light—along with ways to work on making their lives easier and more rewarding. The "strengths-based," uplifting approach builds on solid research that not only counteracts the stigma of "having a problem" but also shows a clear path forward."—Daniel Keating, Author of Born Anxious: The Lifelong Impact of Early Life Adversity—and How to Break the Cycle, and Professor of Psychology, University of Michigan

"As a learning disability specialist, I have seen dozens of books on the topic of ADHD, but I now have found the one that I know myself and my team of experts will all use. I highly recommend this book to educators, parents, grandparents, and especially to the kids! It's time to thrive with ADHD!"—Farryl Dickter, MA, CCC-SLP, ET/P, Licensed Speech-Language Pathologist & Professional Educational Therapist

"This book is a great resource for children with ADHD and their families. It is accessible, educational, and includes many thought-provoking activities that can help kids succeed and feel more confident. I appreciate the humor, personal perspective, and the strength-based approach of this workbook. I will be recommending it to families!"—Joshua Mandelberg, MD, Developmental-Behavioral Pediatrician

"It took me two decades to learn how to turn the challenge of my childhood ADHD into my greatest strength. Through engaging games and powerful mindfulness practices, Kelli helps children learn self-regulation while having fun. Children learn both to view their condition in a positive light as well as effective organizational skills. I only wish your workbook was available when I was a child."—Pejman Katiraei, DO, Fellow of the American Board of Pediatrics and Founder of Wholistic Kids and Families

"I always advise starting treatment with behavioral interventions. Some parents struggle to find the right book to help them develop a behavioral parenting plan, but now they have the perfect book! Thriving with ADHD makes the concepts clear, makes planning easy and fun, and is a great starting point for any parent working on a behavioral approach to helping their child."—Keith Seibert, MD Pediatrician

"A must for any child in your life facing an ADHD diagnosis. The activities in this book are essential for any parent, therapist, or educator interested in helping children learn skills to help them thrive with ADHD."—Katherine Woodward Thomas, NY Times Bestselling Author of Conscious Uncoupling: 5 Steps to Living Happily Even After

"Kelli transforms the ever-dreaded diagnosis of ADHD into a "glass half-full" rather than a "glass half-empty" experience by demonstrating the positive aspects of the condition. She teaches 60 self-help activities, easily applicable in all areas of a child's life. Kelli brings a wealth of personal and professional experience to the table with a friendly and readable style. Thank you, Kelli, for providing this much-needed toolbox for kids!"—Debra Mandel, Ph.D., Psychologist, Author, and TV/Radio Personality

"Thriving with ADHD is a resource that I will be recommending to my patients and their families. Miller adroitly manages to combine compassion, creativity, and ingenuity in her writing while keeping the exercises fun and engaging for her real audience—kids with ADHD. This resource will go a long way in encouraging the uniqueness of every child and fostering confidence in overcoming the challenges that ADHD can pose."—Sari Shepphird, PhD, Psychologist and Award-winning Author