Easy Baking From Scratch: Quick Tutorials Time-Saving Tips Extraordinary Sweet and Savory Classics (Paperback)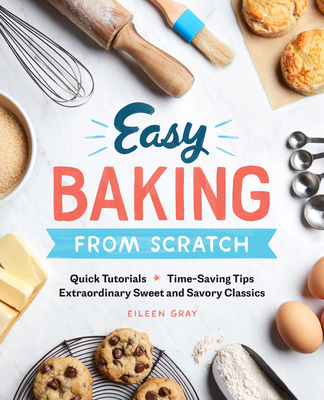 Description
---
Make everything you bake personal with the simplest scratch recipes and tutorials from Easy Baking from Scratch.
You don't need to be a top pastry chef to make baked goods from scratch.
Easy Baking from Scratch
offers the easiest recipes, time-saving tips, and quick tutorials so that anyone can bake homemade treats.
From basic kitchen prep to time-saving tricks, this baking cookbook helps you develop essential baking skills with step-by-step baking techniques and tutorials. With over 100 simple baking recipes for classic baked goods,
Easy Baking from Scratch
is your go-to reference to cook from scratch without scratching a single batch.
Cookies, cakes, pastries, tarts, biscuits, breads, pizza dough—
Easy Baking from Scratch
serves up all of this and more, with:
Kitchen basics that outline essential tools, appliances, and ingredients to keep on hand while baking
Tutorials and tips that accompany each chapter to teach you basic techniques and helpful hacks to make baking easy
100 classic baking recipes for sweet and savory baked goods that use staple ingredients, and feature quick prep and clean up
Everything tastes better when you add the personal touch of baking from scratch. For bakers of all levels,
Easy Baking from Scratch
offers the easiest recipes and techniques to whip up classic, sweet and savory treats that you can proudly say
you
made.
About the Author
---
EILEEN GRAY is a pastry chef, blogger, and food writer. She created Baking Sense to share her love of baking with home bakers around the world. Eileen is married and has two grown children. She lives in the Philadelphia area.
Praise For…
---
"Eileen wonderfully explains the techniques that we pastry chefs use every day in a way that the true novice will understand. Easy-to-follow instructions for everything from killer Oatmeal Maple Cookies to Almond Croissants make for super simple recipes that anyone can learn (even I learned something new). The first chapter of this book alone is worth adding to your kitchen. Do yourself and your family a favor—buy this book!"—Chef J. Gallagher, CEPC, Senior Pastry Chef, Walnut Hill College

"Chef Eileen Gray demystifies working in the pastry kitchen and gives you the confidence you need to bake like a pro. In her cookbook, she shows you the ropes and features a variety of classic and modern recipes, including perfect Raisin Scones, decadent White Chocolate Raspberry Brownies, or her comforting and savory Beef and Guinness Pot Pie."—Marie A. Stecher, Pastry Chef Instructor at Walnut Hill College, Philadelphia, PA

"This cookbook has such a great variety of solid recipes that are approachable for baking novices yet still useful for baking veterans who simply need a few more perfected recipes. I love the brief introduction to ingredients and equipment. Skill wise, it makes a real difference to understand and know why using a specific ingredient or equipment will lead to better results. And I love the tips at the end of all of the recipes. Eileen has definitely set you up for baking success. Happy easy baking!"—Kimberly Cuthbert, Owner & Pastry Chef, Sweet Jazmines Pastry Shop