Open Skies: My Life as Afghanistan's First Female Pilot (Hardcover)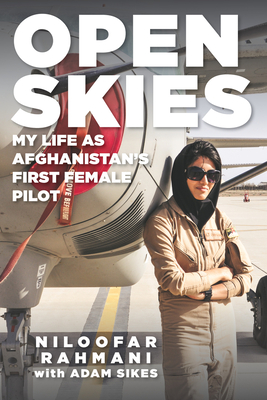 $28.99

Available in our Warehouse: Usually Ships in 3-8 Days
Description
---
"As a young Afghan woman who dreamed of becoming an air force pilot, Niloofar Rahmani confronted far more than technical challenges; she faced the opprobrium of an entire society." —Pamela Constable, author of Playing with Fire and former Kabul and Islamabad bureau chief for the Washington Post  
The true story of Niloofar Rahmani and her determination to become Afghanistan's first female air force pilot—as seen on Anderson Cooper and ABC News
 In 2010, for the first time since the Soviets, Afghanistan allowed women to join the armed forces, and Rahmani entered Afghanistan's military academy.  
Rahmani had to break through social barriers to demonstrate confidence, leadership, and decisiveness—essential qualities for a pilot. She performed the first solo flight of her class—ahead of all her male classmates—and in 2013 became Afghanistan's first female fixed-wing air force pilot.  
The US State Department honored Rahmani with the International Women of Courage Award and brought her to the United States to meet Michelle Obama and fly with the US Navy's Blue Angels. But when she returned to Kabul, the danger to her and her family had increased significantly. 
Rahmani and her family are portraits of the resiliency of refugees and the accomplishments they can reach when afforded with opportunities 
About the Author
---
Niloofar Rahmani became the first female fixed-wing pilot for the Afghan Air Force in 2012. She speaks three languages and has been interviewed for the Wall Street Journal, the Independent, and PBS as well as by Anderson Cooper and Jake Tapper. In 2015 the US State Department presented Rahmani with the International Women of Courage Award. She lives in the southeastern United States. Adam Sikes is a decorated US Marine veteran and freelance writer.
Praise For…
---
"Niloofar Rahmani's story would be remarkable anywhere. But set as it is in Afghanistan, it soars beyond. Not only was her epic struggle to prove her worth as a fighter pilot compounded by intense threats from the Taliban, but she found little support from the men who should have been her brothers in arms. Her story of perseverance and triumph will be an inspiration not only for women but for anyone striving to achieve a difficult goal in the face of opposition." —Jim DeFelice, coauthor of American Sniper, Code Name: Johnny Walker, and Every Man a Hero

★ "A highly readable memoir for older teens researching the fight for women's rights around the world or looking for inspiration." —Booklist, starred review

★ "Delivered with compassion and courage, Rahmani's heart-racing account will leave readers gripping their seats. This is a vital work of the highest order."—Publishers Weekly, STARRED

★ "Not simply an inspiring title, this is a memoir of devastation and determination that brings the country's trials into sharp focus." —Booklist, starred review