Thrill Seekers: 15 Remarkable Women in Extreme Sports (Women of Power) (Hardcover)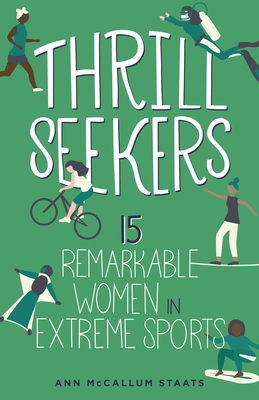 $16.99
This item is not currently available to order.
Other Books in Series
This is book number 1 in the Women of Power series.
Description
---
"Ann McCallum Staats has written an uplifting book profiling a handful of extraordinary women whose example proves that nothing can or should hold women back. These women push the boundaries of what was believed possible, achieving the impossible." —Milbry Polk, author of Women of Discovery, and member of the Explorers Club board of directors 
Encompassing a diverse selection of women in extreme and unique sports, this book shares the stories of bold and daring thrill-seekers 
What is the allure of the extreme? Who are the women who seek out and excel at sports outside the conventional, such as cave diving, wingsuit flying, or Formula 1 racing?  
This collection of adventure dynamos is as fascinating as it is empowering. Thrill Seekers introduces readers to a diverse and fascinating selection of women whose determination, grit, and courage have propelled each of them into a life far from the sidelines.  
Each chapter introduces readers to modern role models and leaders, change-makers who opt into a life of risk—but one of astonishing rewards.  
Inspire young people to approach life with the same bold resolve. 
Women of Power. Bold books to inspire bold moves.  
Thrill Seekers is the debut title in the new Women of Power series. Women of Power is a timely, inclusive, international, modern biography series that profiles 15 diverse, modern women who are changing the world in their field while empowering others to follow their dreams.
About the Author
---
Ann McCallum Staats holds a BA in Education from the University of Victoria, BC, and an MA in Education from the University of Maryland. She is the author Women Heroes of the US Army as well as six children's books, including The Secret Life of Math, which won ForeWord's Gold Book of the Year, and the Eat Your Homework series. She is currently an ESOL high school teacher and a member of SCBWI as well as the Children's Book Guild of Washington, DC.
 
Praise For…
---
"Ann McCallum Staats has written a much-needed book. In a world dominated by ball and goal sports, Thrill Seekers: 15 Remarkable Women in Extreme Sports takes a deep dive into sports such as slackline walking, cave diving, and dog sled racing. Staats also tells the stories of the fascinating women who have the courage to push themselves further than they ever thought possible. Thrill Seekers is a reading rush." —Fred Bowen, author and Washington Post KidsPost columnist 
"This newest book by Ann celebrates women today as you can see from the title. They are making history right now! I was amazed and constantly in awe as I read through Ann's stories of each of these women. I've ordered a copy for myself so I can pass it on to my granddaughters who are both athletic and will love reading of girls who've grown to women as they achieve in sports what few others have done." —
Linda, Goodreads
"The unique journeys and achievements of women athletes who push the limits of their bodies and minds are outlined in individual substantial chapters." —
Booklist
"An engaging, energetic, and unabashedly woman-centric adventure." —
Kirkus Reviews