My Name Is Cool (Hardcover)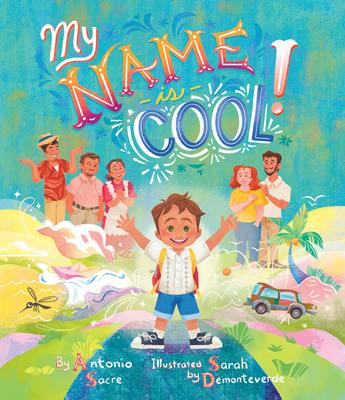 $16.99

Available in our Warehouse: Usually Ships in 3-8 Days
Description
---
2023 Storytelling World Resource Award honoree

When I was born, I kept my eyes squeezed shut so tightly that my mom called me Mr. Magoo from a cartoon she loved.
My dad said I was going to be bilingual, like him, so he called me El Señor Magoo.

Little Antonio has a LOT of names. Different relatives call him different names, but the real culture shock happens when he goes to school for the first time. A celebration of biracial heritage and cultural identity from award-winning Cuban American storyteller Antonio Sacre, My Name Is Cool teaches children to be proud of their heritage and the things that make them different. Different is COOL.
 
About the Author
---
Antonio Sacre, born in Boston to a Cuban father and Irish American mother, is an internationally touring storyteller, author, and solo performance artist based in Los Angeles. He earned a BA in English from Boston College and an MA in Theater Arts from Northwestern University. He has been a featured storyteller at the Kennedy Center, the National Storytelling Festival, the National Book Festival at the Library of Congress, and museums, schools, libraries, and festivals worldwide. His books and recordings have won numerous national awards, and he is the author-and storyteller-in-residence at the prestigious UCLA Lab School.
Praise For…
---
A young boy recounts the stories of his many nicknames.
Antonio is named after his father, his grandfather, and his great-grandfather—and his father's best friend. He soon receives his first nickname in the hospital when his squinting eyes remind his mom of the vintage cartoon character Mr. Magoo. This nickname gives rise to several spinoffs, which, in addition to his first, middle, and last names, bring Antonio's total number of names to six at just 3 days old. The pattern continues as Antonio's Cuban family members bestow charming and often playful Spanish nicknames on him. Antonio, who is bilingual (speaking Spanish and English) like his papá, shares the story behind each name and eventually reaches 10 names. Trouble finds Antonio on the first day of kindergarten, when he has difficulty answering his name when the teacher takes attendance. Antonio is sent to the principal's office to explain himself. There, he finds a friendly ally who delights in the story of his names and gives him one more as he heads back to class with her approval. This lighthearted look at collecting nicknames infuses the first-day-of-school genre with a new voice. Antonio's mother is light-skinned and red-haired; his father is brown-skinned, dark-haired, and Cuban. The school principal is Black, and Antonio's classmates are diverse. Unitalicized Spanish words and phrases appear throughout. (This book was reviewed digitally.)
Sure to spark lively conversation about readers' own nicknames. (Picture book. 4-7)
—
Kirkus Reviews