Rick Steves Snapshot Northern Ireland (Rick Steves Travel Guide) (Paperback)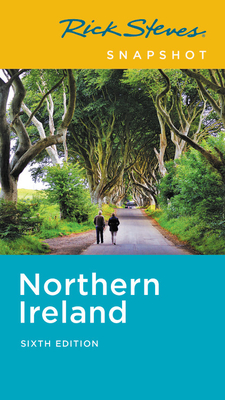 $10.99
This item is not currently available to order.
Description
---
You can count on Rick Steves to tell you what you really need to know when traveling in Northern Ireland.

In this compact guide, Rick Steves and Pat O'Connor offer their best travel tips on Northern Ireland, including Belfast, Portrush, the Antrim Coast, Derry, and County Donegal. Visit the Ulster Museum in Belfast, tour the Dunluce Castle or Giant's Causeway along the Antrim Coast, or peruse Derry's political murals. You'll get firsthand advice on the best sights, eating, sleeping, and nightlife, and the maps and self-guided tours will ensure you make the most of your experience. More than just reviews and directions, a Rick Steves Snapshot guide is a tour guide in your pocket.

Rick Steves Snapshot guides consist of excerpted chapters from Rick Steves European country guidebooks. Snapshot guides are a great choice for travelers visiting a specific city or region, rather than multiple European destinations. These slim guides offer all of Rick's up-to-date advice on what sights are worth your time and money. They include good-value hotel and restaurant recommendations, with no introductory information (such as overall trip planning, when to go, and travel practicalities).

About the Author
---
Since 1973, Rick Steves has spent about four months a year exploring Europe. His mission: to empower Americans to have European trips that are fun, affordable, and culturally broadening. Rick produces a best-selling guidebook series, a public television series, and a public radio show, and organizes small-group tours that take over 30,000 travelers to Europe annually. He does all of this with the help of more than 100 well-traveled staff members at Rick Steves' Europe in Edmonds, WA (near Seattle). When not on the road, Rick is active in his church and with advocacy groups focused on economic and social justice, drug policy reform, and ending hunger. To recharge, Rick plays piano, relaxes at his family cabin in the Cascade Mountains, and spends time with his son Andy and daughter Jackie. Find out more about Rick at www.ricksteves.com and on Facebook.
Connect with Rick:facebook.com/RickStevestwitter: @RickStevesinstagram: ricksteveseurope
Pat O'Connor, an Irish-American, first journeyed to Ireland in 1981, and was hooked by the history and passion of the feisty Irish culture. Frequent return visits led to his partnership with Rick, his work as a tour guide for Rick Steves' Europe, and co-authorship of this book. Pat, who loves all things Hibernian except black pudding, thrives on the adventures that occur as he slogs the bogs and drives the Irish back lanes (over 2,000 kilometers annually) in search of new discoveries.