Flames of Extinction: The Race to Save Australia's Threatened Wildlife (Hardcover)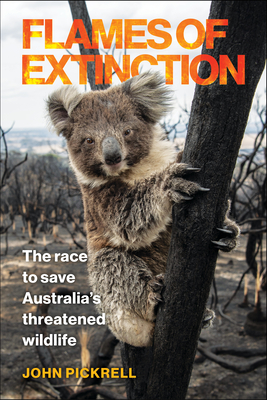 $30.00

Available in our Warehouse: Usually Ships in 3-8 Days
Description
---
In the early months of 2020, the world's attention was riveted on Australia, where the nation's iconic wildlife fought for survival in the face of unprecedented wildfires. Images of koalas drinking from firefighters' water bottles went viral and became the global face of a catastrophe that would kill as many as three billion animals. Known as the Black Summer, the fire season was responsible for more wildlife deaths and near-extinctions than any other single event in Australian history. Flames of Extinction, written by a journalist at the heart of this news coverage, is the first book to tell the stories of Australia's record-setting fires, focusing on the wild animals and plants that will be forever changed.

As news of the fires spread around the world, journalist John Pickrell was inundated with requests for articles about the danger to Australia's wildlife. The picture seemed grim, from charred koalas to flames that burned so hot not even animal skeletons remained. But Pickrell's reporting exposed a larger picture of hope. Flames of Extinction tells the story of the scientists, wildlife rehabilitators, and community members who came together to save wildlife and protect them in the future.

As climate change intensifies and devastating wildfires become more commonplace, Australia's Black Summer offers a poignant warning to the rest of the world. Through evocative and urgent storytelling, Flames of Extinction puts readers on the ground to witness the aftermath of one of Australia's greatest tragedies and inside the inspiring effort to save lives.
About the Author
---
John Pickrell is an award-winning journalist, the author of Flying Dinosaurs and Weird Dinosaurs, and the former editor of Australian Geographic magazine. Currently the Asia-Pacific Bureau Chief for Nature, he has worked in London, Washington, DC, and Sydney for publications including New Scientist, Science, Science News and Cosmos, and his articles also appear in Nature, National Geographic, Scientific American, Focus, BBC Future, The Guardian and the ABC. John has been a finalist in the Australian Museum's Eureka Prizes three times, won an Earth Journalism Award and has featured repeatedly in The Best Australian Science Writing anthology, which he edited in 2018. He studied biology at Imperial College in the United Kingdom and has a Master of Science in taxonomy and biodiversity from the Natural History Museum, London.
Praise For…
---
"Although Pickrell's focus is on [the 2020] season's events, his reporting embraces themes of wildlife rehabilitation, fire dangers and protection efforts, and how to survive a changing climate as the future portends further global warming and more extreme fires....These experiences and lessons read with the drama of "you are here" fiction, but incorporate all the dilemmas and approaches of what really happened, making for a survey accessible to general readers and wildlife management professionals alike."  
— Donovan's Literary Services

"Rich, well-documented resource on the impacts of Australian wildfires with relevance to the North American context, a must read primer to inform the climate change debate in a highly readable form.".
— Choice

"Pickrell tells a series of deep and compelling stories of resilience and recovery, finding hope amid the ashes of the most disastrous bushfires in modern history. Through detailed research and vivid storytelling, he puts a face on the otherwise impossible-to-comprehend abstraction of three billion animal deaths. In each tale of these plants and animals' fight to survive, he also provides a map for humanity in our own endeavor to learn to live with an increasingly fiery planet."
— Michael Kodas, author of "Megafire" and "High Crimes"

"A carefully researched and deeply empathetic portrayal of the battle to save Australia's precious wildlife as we cook our planet. Fascinating and essential."
— Gaia Vince, author of "Adventures in the Anthropocene"

"The story of Australia's devastating holocaust and how we must stop it happening again. It's up to us."
— Robyn Williams, host of Australian Broadcasting Corporation's "Science Show" and "Ockham's Razor"

"Powerful and compelling, Flames of Extinction should be read by all who cherish life on Earth."
— Professor Chris Dickman, University of Sydney