My Riot: Agnostic Front, Grit, Guts & Glory (Paperback)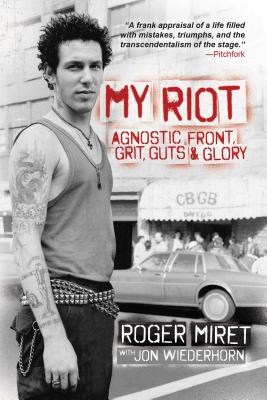 $17.00
This item is not currently available to order.
Description
---
"Miret's captivating and harrowing, no-holds-barred account of a life lived in the trenches . . . You don't have to be a major Agnostic Front fan to get maximum enjoyment out of this book. . . . A compelling read." —Classic Rock Revisited

"Miret's memorable, affecting stories capture an important time in the hardcore music scene. . . . Equal parts music memoir and gritty coming-of-age story, it's an eminently readable and fast-paced look at life during hardcore's heyday. . . . Not just for music fans, My Riot is a valuable snapshot of an important time." —Foreword Reviews

"My Riot is a powerful and riveting read. A brutal look into the life of a man that did what he had to do to survive." —Scott Ian, Anthrax

Born in Cuba, Roger Miret fled with his family to the US to escape the Castro regime. Through vivid language and graphic details, he recounts growing up in a strange new land with a tyrannical stepfather and the roles that poverty and violence played in shaping the grit that became critical to his survival. In his teen years, he finds himself squatting in abandoned buildings with unforgettably eccentric runaways and victims of similar childhood trauma. With like-minded misfits he helps pioneer a new musical genre, but with money scarce and commercial success impossible, he turns to running drugs to support his family and winds up in prison. It's the ultimate test of his toughness and perseverance that eventually sets him on a path towards redemption.

My Riot is both an unflinching portrait of downtown New York in the 1980s and a testament to the perils of growing up too fast.

"It's a great read, tracing the roots of New York Hardcore via lots of crazy stories about potentially deadly situations. . . . Pick up this book and take a walk back in time through the Lower East Side when it was still a hair-raising adventure." —D. Randall Blythe, Lamb of God
About the Author
---
Roger Miret is a pioneer of the New York Hardcore scene. The Cuban-born singer joined Agnostic Front in 1983, and the seminal group released classics like United Blood, Victim In Pain and Cause For Alarm over the next several years. Miret also fronts his own solo group, Roger Miret and The Disasters. He lives in Scottsdale, Arizona.

Jon Wiederhorn is the author of Louder Than Hell: The Definitive Oral History of Metal (with Katherine Turman) and the co-author of Ministry: The Lost Gospels According to Al Jourgensen (with Al Jourgensen) and I'm the Man: The Story of That Guy from Anthrax (with Scott Ian). He has written for Rolling Stone, SPIN, MTV, Guitar World and Revolver, among others. He lives in Montclair, New Jersey.
Praise For…
---
"A frank appraisal of a life filled with mistakes, triumphs, and the transcendentalism of the stage."
— Pitchfork, a favorite music book of 2017

"Miret's memorable, affecting stories capture an important time in the hardcore music scene... Equal parts music memoir and gritty coming-of-age story, it's an eminently readable and fast-paced look at life during hardcore's heyday... Not just for music fans, My Riot is a valuable snapshot of an important time."
— Foreword Reviews

"This is raw, powerful and intense reading! I can't put it down! Highly recommend grabbing this book when you can, but be prepared, it ain't pretty!"
— Jesse Leach, Killswitch Engage

"Fan or not, My Riot is a great look back at a singular time in musical history, written from a very singular perspective, and it was almost impossible to put down."
— Midnight to Six

"Roger gave a voice to the voiceless and has lived the life he sung about. This book is incredible! I couldn't put it down."
— Lars Frederiksen, Rancid

"Reading Miret's memories of the scene's early violent years was enthralling... Despite its unflinching style, the memoir also carries a lighter tone in parts, especially any stories revolving around Miret's musical partner in crime, Agnostic Front guitarist Vinnie Stigma."
— No Echo

"Miret's captivating and harrowing, no-holds-barred account of a life lived in the trenches... You don't have to be a major Agnostic Front fan to get maximum enjoyment out of this book... A compelling read."
— Classic Rock Revisited

"Roger, with the help of Jon Widerhorn, writes with a great level of humility, simplicity, and honesty that makes for a very easy read... One of the things that I really loved are the fun stories Roger shared throughout... There are many gems like these in this book, some of which will make you laugh, cringe and possibly cry. Nonetheless, the beauty of it all is that Roger lived to tell the tale."
— In Effect Hardcore

"You can't claim Roger Miret, one of the New York's hardcore scenes founding fathers, held anything back in his new memoir... A compelling book."
— Innocent Words

"A gripping new memoir"
— Reason

"My Riot is a powerful and riveting read. A brutal look into the life of a man that did what he had to do to survive."
— Scott Ian, Anthrax

"Hardcore has a code of honor that never wavers. Roger's character and loyalty are only outweighed by the fire in his heart and his dedication to the cause."
— Jerry Only, Misfits

"It's a great read, tracing the roots of New York Hardcore via lots of crazy stories about potentially deadly situations... Pick up this book & take a walk back in time through the Lower East Side when it was still a hair-raising adventure."
— D. Randall Blythe, Lamb of God

"The most wild, sincere, honest book I've ever read. Roger holds nothing back and delivers jaw-dropping story after story that you would see in a movie... You won't be able to put it down."
— Suburban Rebels