How to Be: A Monk and a Journalist Reflect on Living & Dying, Purpose & Prayer, Forgiveness & Friendship (Paperback)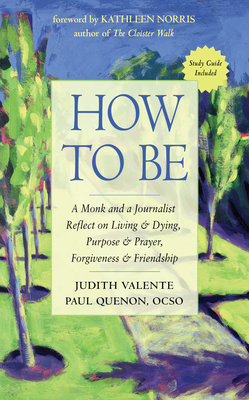 Description
---
"Readers will want to savor these wise and lyrical offerings."—Publishers Weekly (Starred Review) 
 
The spiritual seeker's guide to living with authenticity and integrity in troubled times by a lauded journalist and monk mentored by Thomas Merton.
 
This book is a dialogue between two spiritual seekers—one a Trappist monk and the other a married professional woman. It is two people "stuttering to articulate life's universal questions from diverse contexts and perspectives." Brother Paul writes as one steeped in silence and the daily rhythms of the ancient prayer practices of monasticism. Judith Valente writes as a professional woman attempting to bring a sense of prayer and contemplation to a scattered life in the secular world.

Valente uses the story of Brother Paul's interview for a PBS documentary as a jumping-off point: When asked the purpose of the Trappist life in the modern world, he said that it is "to show you don't need a purpose." The purpose of life, he said, is life. "You're to live your life."

How to Be offers a window into two people living their lives on purpose (or not) and struggling to come to terms with the big issues everyone faces: faith, mortality, mystery, prayer, work. It is a book that provides insight and inspiration for those walking the spiritual path—particularly for those interested in the contemplative path.
 
Includes a 16-page study guide—for individuals and group use.
About the Author
---
Judith Valente is a former staff writer for the Washington Post and the Wall Street Journal and a finalist for the Pulitzer Prize in journalism. She is a former correspondent for PBS's Religion & Ethics NewsWeekly and senior correspondent for investigative reporting and long features at the NPR affiliate in central Illinois. She was also a special correspondent covering faith and values and arts and culture for Chicago Public Radio. Valente contributes articles to US Catholic magazine and National Catholic Reporter. She lives in Normal, Illinois. Learn more at www.judithvalente.com.
Brother Paul Quenon, OCSO, entered the Trappist Abbey of Gethsemani in 1958 at the age of 17. Thomas Merton was his novice master and spiritual director. Quenon is the author of 9 collections of poetry. His memoir, In Praise of the Useless Life, was praised by Sue Monk Kidd, Pico Iyer, and Kathleen Norris.

 
Praise For…
---
"Readers will want to savor these wise and lyrical offerings."
— Publishers Weekly (Starred Review)

"Snow fell outside my dark study as I read these exquisitely simple letters by computer light. I was a blissed-out fly on their writing desks as I buzzed back and forth between these wise words exchanged between a married woman and a monk. In the end, I was over-joyed for having spent hours in their good company. Their friendship saturated me with comfort and calm. So many good words made me happy, especially "I know you and you know me. But wait. I hardly know myself—at least not, as yet, in the totality of what I will be. The little letters we write, the casual contacts we make in life, the fragments of acquaintance, the relationships, broken or made whole, are just the beginning. Each is a small seed of what can develop in eternity. None of it is ever lost. Nothing is ever lost." Oh, thank you both for including me."
— Jon Montaldo, The Intimate Merton (with Brother Patrick Hart)

"These letters remind us that the monastic life is a gift to the world. The prayers and teachings of monks and nuns are here to help make contemplatives of all of us, regardless of where we live."
— Jon M. Sweeney, coauthor of Meister Eckhart's Book of the Heart; translator of Francis of Assisi in His Own Words

"This small book brought me joy and solace at a difficult time—what more may I say?  Such a pleasure to read the correspondence of two thoughtful, perceptive people about what really matters.  This small book demonstrates again that letters are among our most important literary forms."
— Fenton Johnson, author of At the Center of All Beauty: Solitude and the Creative Life

"This book is "a small taste of eternity" as Judith and Br. Paul invite us into stories of ancient wisdom lived in contemporary contexts. Modeled through letter writing and spiritual friendship, they tackle some of the biggest questions: change and stability, humility and purpose, time and eternity, life and the afterlife. This book preserves ageless monastic wisdom as monasticism itself is evolving before our eyes. People of all spiritual backgrounds and across generations will find insight on how to live through challenging times, personally and societally, in these pages." 
— Katie Gordon, co-founder of Nuns & Nones and staff member of Monasteries of the Heart

"An inherently fascinating, absorbing, thoughtful and thought-provoking read throughout. An extraordinary, unique, and highly-recommended addition to community, seminary, college, and university Christian Values, Social Issues, & Self-Help collections."
— Midwest Book Review